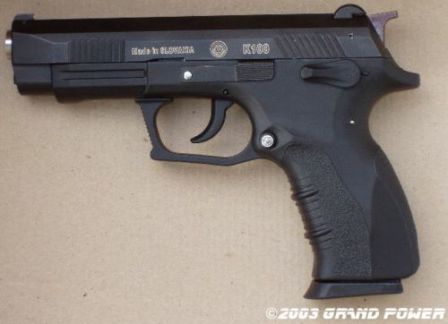 K100 pistol, left side view
Image: Grand Power SRO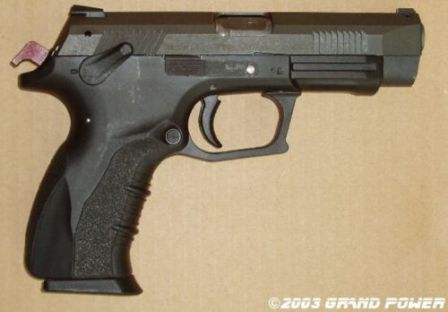 K100 Mk.6 pistol, right side view
Image: Grand Power SRO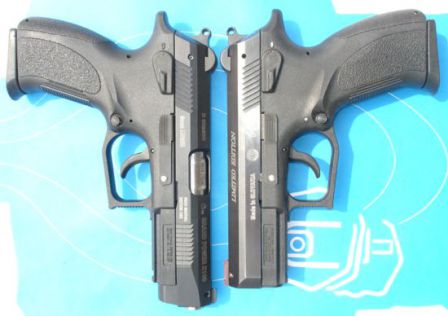 K100 Mk.6 full-size pistol (left) compared to K100 P1 semi-compact (right)
Image: Grand Power SRO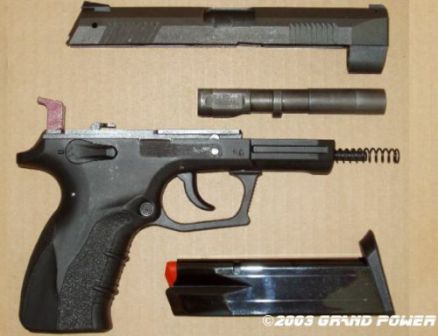 K100 pistol, field stripped

K100 barrel, bottom side. Clearly seen is the curved guide cut under the chamber, which forces the barrel to rotate on recoil.
Type: Double / Single Action
Calibers: 9x19mm Luger
Weight unloaded: 740 g
Length: 203 mm
Barrel length: 108 mm
Capacity: 17 rounds
The K100 pistol has been in development since 1996, when the first patent was received for its improved rotary-barrel action. The first prototype, designated K1, was built in 1998 and series production commenced in 2003, under the new designation of K100. The most recent versions of the K100 family are K100 Mk.6 (full-size pistol with Picatinny-type accessory rail on the frame below the barrel) and k100 P1 (a semi-compact "police" pistol with shortened barrel).
The K100 is a short-recoil operated, locked-breech pistol with a polymer frame. It uses the relatively rare rotating barrel locking system, with a somewhat unique implementation. Instead of the typical "lug and cam slot" arrangement, which is usually responsible for barrel rotation upon recoil, the K100 has a cross-pin set into the frame and a helix-shaped flat cut made at the bottom of the chamber area of the barrel. Upon recoil, this helix cut slides over the cross-pin, forcing the barrel to rotate which unlocks it from the slide. Another unusual feature (at least for a locked-breech pistol) is the method of disassembly, which includes a pivoting trigger-guard which acts as a disassembly release. The trigger is double-action, with an exposed hammer and an ambidextrous, frame mounted manual safety. Since 2005, new models have also been available with alternative triggers: DAO (no manual safety) and QA (Quick-action, with pre-cocked main spring). On standard pistols, both slide release and manual safety levers are duplicated at either side of the frame, providing completely ambidextrous operations. An automated firing pin safety block is also provided. Magazines are double-stack, with the magazine release button located at the base of the trigger-guard. Sights are either of fixed or adjustable type; the front sight is pinned to the slide, the rear sight is dovetailed.
For special purposes, the K100 can be fitted with an extended, threaded barrel and a silencer (sound moderator) of indigenous design. To ensure reliable functioning with a heavy silencer attached to the barrel, it has a built-in "recoil booster" module, which helps to cycle the heavier barrel/silencer unit. Other specialized versions are the K-102R and K-105R, which have fire mode selectors and can fire in single shots and in two-round (K-102) or variable length (K-105) bursts.