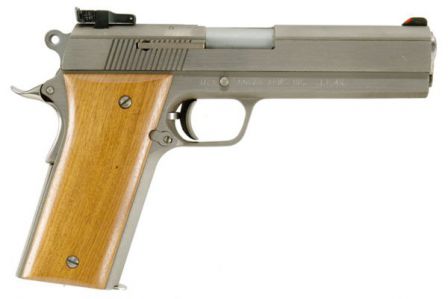 Coonan pistol, right side
Coonan pistol, left side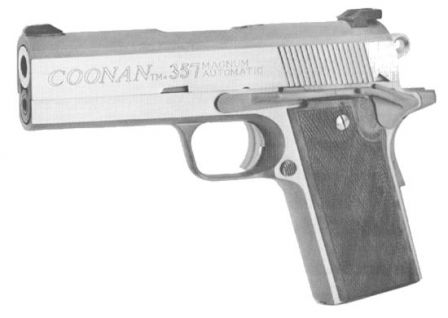 Coonan Cadet pistol
Coonan standard model
Coonan Cadet model
Type
Single Action semiautomatic
Caliber(s)
.357 Magnum, .38 Special +P
.357 Magnum
Weight unloaded
1190 g
1100 g
Length
210 mm
182 mm
Barrel length
127 mm
99 mm
Magazine capacity
7 or 8 rounds
6 rounds
Dan Coonan, an American gun designer, started the development of a .357 Magnum caliber semiautomatic pistol in around 1977. He did so in the search of combat / defensive pistol that will provide same terminal effectiveness as .357 caliber revolvers, but with bigger capacity and faster reloading, specific to semiautomatic pistols. He first designed a working magazine (not a simple thing assuming the relatively large overall length and a rimmed case design of a .357 Magnum round). Once magazine was ready, Dan Coonan built his first forking prototype using standard M1911 parts; to be able to fit long .357 cartridges, he had cut the slide and the frame (in the grip area) and welded in steel inserts to increase length of parts. First Coonan .357 Mag barrel barrel was made from solid block of steel. Once prototype pistol was finished and successfully tested, Coonan established its own business, Coonan Arms Inc., and started to make pistols of his design. Through the time, basic design was upgraded to Model B, with major improvement being the introduction of the linkless barrel system. During early 1990's Coonan introduced a cut-down "Cadet" model with shortened barrel and grip; at about the same time he also worked on .41 Magnum caliber pistol, which apparently was never finished. Coonan arms also offered .38 Special +P caliber conversion kits, which included weaker return springs and magazines with spacers, which were necessary to firmly hold shorter rounds.
In the year 1994 Coonan Arms Inc went filed bankruptcy, and in the same year it was reorganized and lived on until 1998, when it was dissolved. At the present time, parts and repair service for Coonan pistols are offered by Dan Coonan Inc. Coonan pistols are out of production and no longer made.
Overall, Coonan pistols were fine weapons, suitable for most applications like self-defence (including concealed carry), service use by police officers, hunting, target shooting. These pistols were made to rather high standard and thus were somewhat expensive.
Coonan Model A pistols were short recoil operated, locked breech pistols that employed Browning-type system with tilting barrel, connected to the frame with swinging link (system, borrowed from Colt M1911 pistol). Conan model B and smaller Cadet pistols were similar to Model A except for simplified linkless barrel tilting system. Single action trigger with exposed hammer, automated grip safety and frame-mounted manual safety also were copied from M1911. Magazines were single stack; early magazines held 7 rounds, late production magazines held 8 rounds; shorter Cadet magazines hold only 6 rounds. Coonan pistols were fitted either with Millet type adjustable or with combat type fixed sights; rear sight was dovetailed to the slide.