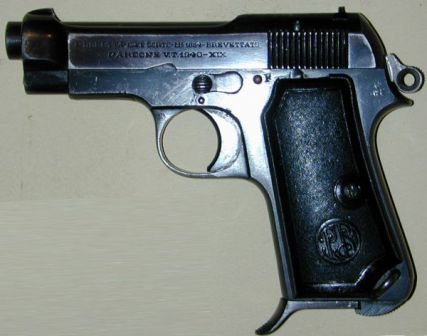 Beretta M34 pistol.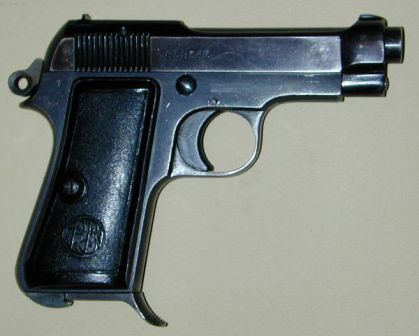 Beretta M34 pistol.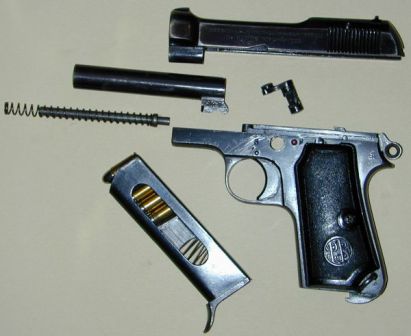 Beretta M34 pistol, basic disassembly.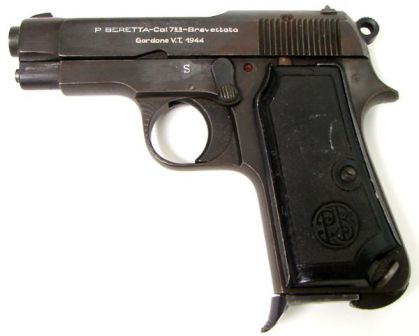 Beretta M35 pistol.
Characteristics
Type
Single Action semiautomatic
Caliber(s)

M34

: 9mm Corto / 9×17 Browning Short / .380 ACP


M35

: 7.65×17 Browning / .32 ACP
Weight unloaded
605 g empty
Length
150 mm
Barrel length
88 mm
Magazine capacity
7 rounds (9mm) or 8 rounds (7.65mm)
The Beretta Modello 1934 pistol (or Beretta 34 in short) was a result of the almost 20 years of evolution, which started in 1915, when designer Tulio Marengoni designed his first semi-automatic pistol for famous Italian gun-making company Beretta. The Beretta M34 pistol was standartized by Italian army in 1934 in caliber 9mm Corto (9×17 Browning Short, also known as .380 ACP). Next year, the same gun chambered for less powerful 7.65×17 Browning / .32 ACP ammunition was adopted by Italian Navy and Air Force as Modello 1935 (M35). Both pistols were wery well regarded by its users, being of simple, realiable and sturdy (some say – overbuilt) design and quality workmanship. The Beretta M34 pistols have served with Italian military until mid-1950s. Production of the Model 34 pistols and its minor variants lasted until about 1980, with more than a million of pistols made over more than 40 years.
Beretta Model 1934 pistol is a simple blowback operated weapon. It uses typical 'Beretta-style' open top slide design, with return spring located below the barrel. The barrel is stationary during firing, but can be easily removed for inspection or maintenance. Trigger is of single action type, with exposed hammer. Manual safety lever is located at the left side of the frame, above the trigger, and requires full 180o rotation to engage (lever pointing rearward, letter 'S' exposed) or disengage (lever pointing forward, letter 'F' or red dot exposed). The same safety lever is used as a slide lock during disassembly, to hold slide to the rear. There is no dedicated slide stop mechanism, but the slide remains open after the last shot, being captured in the open position by the magazine follower. The slide automatically closes itself on the empty chamber as soon as empty magazine is withdrawn. The single stack box magazine normally holds 7 rounds in 9mm versions or 8 rounds in 7.65mm versions. Magazine release is located at the base of the grip.