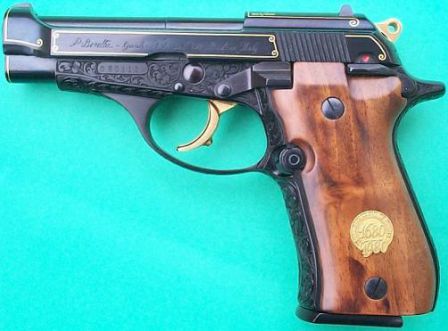 Beretta model 81, 7.65mm.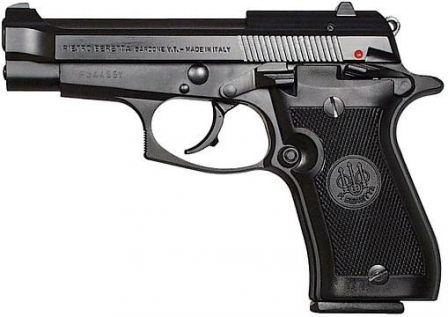 Beretta model 85FS, 9mm Short.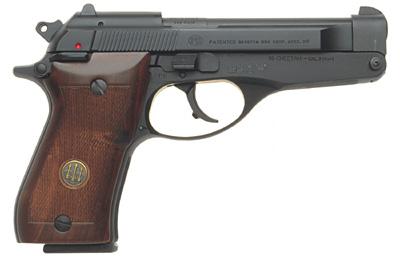 Beretta model 86, 9mm Short, tip-up barrel.
Beretta model 86, 9mm Short, tip-up barrel is opened.
Beretta model 87 "target", .22LR, extended barrel version.
Beretta model 89, .22LR.
Buy Beretta pistols and accessories at Impact Guns online store
Characteristics
Type: Double Action (models 87 and 89 – Single Action)
Chamber: .22LR (5.6mm) models 87 and 89; 7.65x17mm (.32ACP) models 81 and 82; 9x17mm Short (.380 ACP) models 84, 85 and 86
Weight unloaded: 570 – 680 g depending on model
Length: 172 mm
Barrel length: 97 mm
Capacity: 7 (model 87), 8 (models 82, 85, 86, 89), 12 (model 81), 13 (model 84) rounds
New generation of the compact pistols from famous Italian company Pietro Beretta appeared in 1976, with introduction of the models 81, 82, 84 and, later, 85. These models were similar in appearance, major dimensions and design, and differed only in calibers and magazine capacities. Models 81 and 82 were chambered for 7.62x17mm Browning cartridge, also known as .32ACP. Models 84 and 85 were chambered for 9x17mm Browning Short, also known as .380ACP. Models 81 and 84 had double-stack, high capacity magazines, while models 82 and 85 had single-stack magazines and thinner grips. During the following decades, these models passed some upgrades and currently manufactured in FS modifications, easily distinguishable from earlier versions by reshaped triggerguards, styled after famous Beretta 92FS combatt pistol. During the same period some internal alterations also were made. Later, in 1986, Beretta added another pistol to this line, a model 86. Being similar to model 85 in almost all aspects, Beretta 86 has redesigned front part of the frame and added a tip-up barrel. This means that the barrel is hinged to the frame under the muzzle, and rear part of the barrel can be tipped up for visual inspection, clearing, manual unloading and loading directly into the chamber. Latter is an essential thing for those who cannot cycle the slide manually, due to weak, or wet hands, for example. Beretta now marketed these guns under the common name "Cheetah".
This family also includes two rimfire pistols, intended mostly for plinking and target shooting. Model 87 is similar in appearance to other models but has single-stack magazine and available with snandard lenght or with extended barrel. Model 89 is a target pistol, with extended, heavy barrel and light slide. Model 89 is equipped with ajustable rear sights and has a scope rail on the top of the barrel jacket. Both Model 87 and Model 89 featured single action triggers.
In general, all these pistols are blowback operated, hammer fired guns. Ambidextrous safety is mounted on the frame and disconnects the trigger from the sear and locks the slide when engaged. Slides are of familiar Beretta opent-top pattern, and overall shape of these guns is very similar to famous Beretta 92 pistol. Frames are made from ligh alloy, slides are steel. All centerfire pistols of this family featured fixed sights, dovetailed into the slide. These guns can be found in blued or nickel finish, with plastick or wooden grip panels.
Modifications:
Modifications are marked with suffixes after the model number, such as model 82BB or model 84FS.
BB models. This was first modification of the whole line. All BB-marked models have the following additional features: loaded chamber indicator; automated firing pin safety; hammer half-cock position.
FS models. These are the latest (current) versions of the breed. FH models have safety coupled with decocker device, so, when safety is applied, hammer drops automatically against the interceptor, and then slide and sear are locked. Triggerguard of all FS models is reshaped for better two-hands grip and patterned after the Beretta 92FS / US M9 pistol.