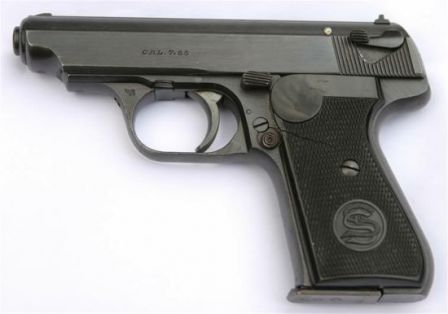 Sauer 38H pistol, left side. Note dual controls (safety on the slide and cocking/decocking lever on the frame).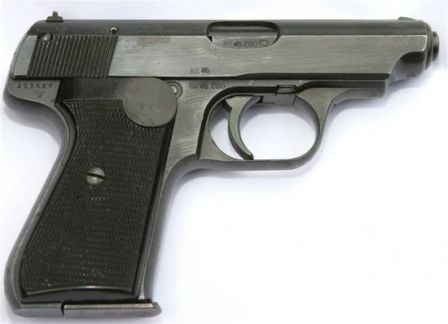 Sauer 38H pistol, right side.
Sauer 38H pistol, late war production model with omitted decocker lever.
Sauer 38H pistol, probably made in the last days of WW2; it has no manual safety nor decocker lever; it is also has no finish on external surfaces.
Characteristics
| | |
| --- | --- |
| Type | Double Action semiautomatic |
| Caliber | 7.65x17mmSR Browning (.32ACP) |
| Weight unloaded | 705 g |
| Length | 171 mm |
| Barrel length | 83 mm |
| Magazine capacity | 8 rounds |
German arms making company J. P. Sauer & son is one of the oldest names in European firearms industry. Sauer made first semiautomatic pistols just before WW1, and continued to make quality pocket pistols during interwar period. Since about 1932, Sauer engineers were working on an interesting trigger system, that employed concealed hammer and external cocking and decocking lever, located on the side of the gun. First patents for this system were issued in 1935, but final design was completed by 1938, when this pistol was brought to the market as Sauer 38H (H stands for hahn, or hammer in German, to distinguish this pistol from earlier Sauer designs, all of which were striker-fired). Sauer 38H pistol was used by various police and security forces in Hitler's Germany; Wehrmacht, the German armed force, also adopted this pistol as substitute standard and ordered some 200 thousands of this pistol to be issued to officers. Pre-war Sauer 38H pistols were made to rather high standards of fit and finish; however, as the war fortune turned its back towards Germany, some cost- and time-saving efforts were made to make guns faster and cheaper. First to suffer was the external finish of guns; later on, some safety features were dropped, and pistols from late period of WW2 can be found either without a manual safety on the slide or without the cocking/decocking lever on the frame (or without either, on last-ditch pistols).
While the basic setup of the Sauer cocking/decocking lever was rather advanced even by immediate post-war standards, 38H pistol was never brought back to production after the far; the basic idea of separate, frame-mounted decocker was revived much later in HK P9s and SIG-Sauer P220 pistols.
Sauer 38H is blowback operated pistol with stationary barrel. Pistol is characteristic with separate breechblock, which houses extractor, firing pin and loaded chamber indicator (that protrudes from the back of the slide if the cartridge is loaded in the chamber). Breech block is fixed to the slide by the cross-pin. Disassembly latch is located inside the trigger guard, just ahead of the trigger, and must be pulled down to allow slide removal. Trigger is of double action type, with concealed hammer and slide-mounted manual safety, which locks the hammer. Additional safety (and flexibility in choosing the shooting mode) is provided by the cocking/decocking lever, located on the left side of the frame, under the grip panel. If the hammer is cocked, a pull on this lever will safely lower the hammer; if the hammer is lowered, a pull on the lever will cock it for single-action first shot.
Magazine release latch is controlled by the button, located on the left side of the grip, at the base of the trigger guard. Sights are fixed. Grip panels are made from black plastic, with "double S" Sauer logo on the left grip.
How to field-strip (disassemble) Sauer 38H: 1) remove the magazine 2) check for live round in chamber 3) pull down the disassembly latch, which is located in the front of the trigger, inside the trigger guard 4) pull the slide all the way back, then rise its rear part off the frame rails 5) ease slide forward until it is clear off the barrel 6) remove the return spring from the barrel
Reassemble in reverse order