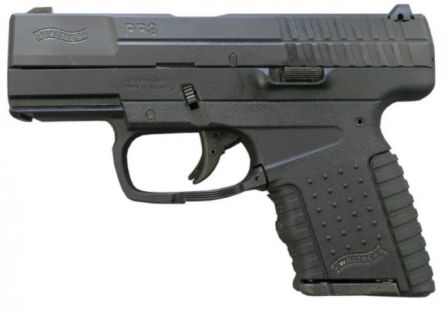 Walther PPS pistol in 9×19 caliber, with 6-round magazine.
image: Carl Walther GmbH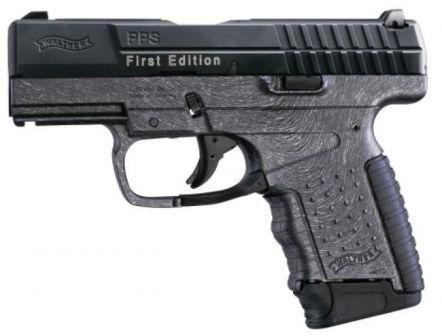 Walther PPS pistol, limited production "First edition" in 9×19 caliber, with 7-round magazine.
image: Carl Walther GmbH

Characteristics
| | |
| --- | --- |
| Type | pre-cocked Double Action Only, semiautomatic |
| Caliber(s) | 9×19 Luger / Parabellum, .40SW proposed |
| Weight unloaded | 549 g less magazine |
| Length | 160 mm |
| Barrel length | 81 mm |
| Magazine capacity | 6, 7 or 8 rounds |
Walther PPS (PolizeiPistole Schmal – Police Pistole Slim) is a most recent offering from the famous German gunmaking company Carl Walther GmbH. It was first shown publicly during IWA 2007 exhibition in Germany, and it is proposed as a more powerful replacement for a venerable Walther PPK pistol, which was designed more than 75 years ago. PPS pistol is based on the proven Walther P99 design, specially adapted for concealed carry. Thanks to its single-stack magazines, PPS is only 23mm (~0,9 inch) wide.
Walther PPS is short recoil operated, locked breech pistol that uses modified Browning-type locking with tilting barrel. Frame of the gun is made from impact-resistant polymer. Trigger is of Double Action Only type, striker-fired, with pre-cocked striker system, similar to QA system used in Walther P99 pistols. This system requires a manual re-cocking (by partial slide retraction) in the case of misfire. Gun is fitted with automated trigger safety and firing pin block; additional "storage-type" safety is provided by removable backstrap of the grip; once backstrap is removed, the firing pin is automatically decocked and gun is blocked until the backstrap is reinstalled. This patented system is called QuickSafe by Walther. Magazines for PPS pistol are single-stack, and will be available in three sizes – 6-round (flush-fit), 7-round and 8-round (extended). Sights are low-profile, with rear sight adjustable for windage.