Zastava M70 pistol, left side. Note manual safety above the grip panel.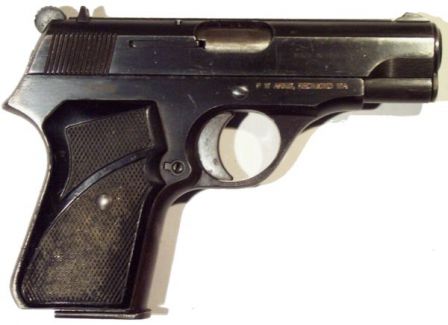 Zastava M70 pistol, right side.
| | |
| --- | --- |
| Type | Single Action semiautomatic |
| Caliber(s) | 7,65×17 (.32ACP); also 9×17 (.380ACP) in M70(K). |
| Weight unloaded | 720 g |
| Length | 165 mm |
| Barrel length | 94 mm |
| Magazine capacity | 8 rounds |
The M70 pistol was produced by Yugoslavian (now Serbian) arms factory Crvena Zastava as a sidearm for police and certain military officers. This pistol is based on the military type M57 pistol, but is scaled down to accept smaller and less powerful cartridges, such as 7,65mm Browning (also known as 7,65x17SR or .32ACP) or 9mm Browning Short (also known as 9×17 or .380ACP). For many years these pistols were used by Yugoslavian police and military. Today many of these pistols are sold worldwide as surplus. For their size and power, M70 pistols are somewhat heavy, but heavy weight also has benefits of light recoil and good durability.
M70 pistol is a simple blowback design. barrel remains stationary when gun is fired, but it can be easily removed during disassembly of pistol. Trigger is of single action type; hammer unit is made removable as one piece. manual safety is located on the left side of the frame, above grip panel. Sights are fixed.