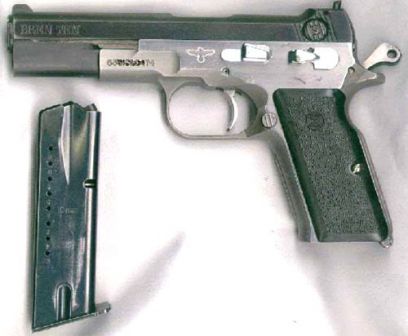 Bren Ten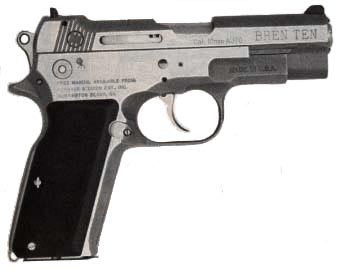 Bren Ten compact
Type: Double Action
Chamber: 10mm auto
Weight unloaded: 1070 g
Length: 222 mm
Barrel length: 127 mm / 5in (also 102 mm / 4in in compact model)
Capacity: 11 rounds
Bren Ten pistol was developed by Dornhaus and Dixion company in the USA in 1983, and was manufactured until ca. 1986 when Dornhaus and Dixion left the business. Bren Ten is known as a first factory manufactured handgun to be chambered for the powerful 10mm auto cartridge, developed by Norma.
The overall design of the Bren Ten strongly resembles famous Chech CZ-75 handgun.
Bren Ten is manufactured from stainless steel. It is a recoil operated, locked breech firearm that utilises Brownings' linkless locking (High Power type). All Bren tens were pretty much hand fitted and assembled, and a total number of manufactured guns is not too big.
The most intersting thing about Bren Ten is its cartridge. Developed to be better performer than 9mm Luger and .45ACP, 10mm auto roughly equals or even slightly superceeds the .357 magnum cartridge – probably, the best handgun manstopper ever. It was adopted by USA FBI as a more powerful replacement to 9mm Luger. With relatively light (155 gr / 10.5 g) bullet 10mm can achieve muzzle velocities of 1350 fps / 410 m/s, giving to the shooter the good penetration and flat trajectory. However, the felt recoil could be at least "sensitive".