FN – Browning M1900, left side.
FN – Browning M1900, right side.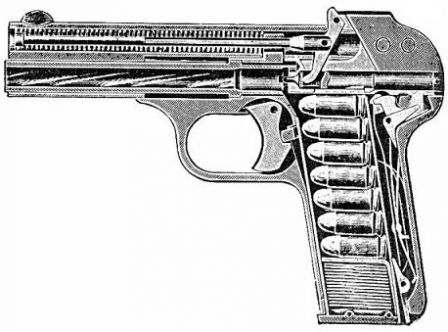 Sectional view drawing of the FN – Browning 1900 pistol.
Characteristics
Type: Single Action, semi-automatic pistol
Chamber: 7.62x17mm SR (.32ACP)
Weight unloaded: 625 g
Length: 172 mm
Barrel length: 102 mm
Capacity: 7 rounds
The FN / Browning model 1900 pistol was a first of a long and extremely successful series of the Belgian-made pistols, designed by the American firearms genius John Moses Browning. The first semi-automatic, blowback operated pistol was designed by J. M. Browning circa 1896 and latter improved by the 1897. He offered his design to Belgian company FN Herstal circa 1898, and production began in 1899, as the Modele 1899. in 1900, this pistol, in slightly modified form (with barrel shortened from 122 to 102 mm), was adopted by Belgium as Mle.1900. Relatively simple and well designed, this pistol is also known as the Browning Number 1 pistol (Browning No.1). Widely used across Europe as a civilian and police sidearm, this was chambered for a new smokeless round, 7.62x17mm SR, which is also known in Americas as the .32ACP (.32 Colt Automatic). FN – Browning M1900 was widely copied in many countries, especially in S-E Asia. It was manufactured until the 1911 or so, with more than 700 000 pistols made.
Technical description.
The M1900 is a blowback operated, semi-automatic (self-loading) pistol. The barrel is fixed to the frame. The recoil spring is located within the slide and above the barrel. This spring, via special lever, also acts as a firing pin spring. M1900 is a striker fired, single action weapon. Unlike all latter designs, the ejection port is cut in the frame, and not in the slide. Safety switch is located at the left side, above the grip panel. Magazine is removable, is inserted into the pistol handle and holds 7 rounds. Magazine catch lever is located at the heel of the grip. Sights are fixed.