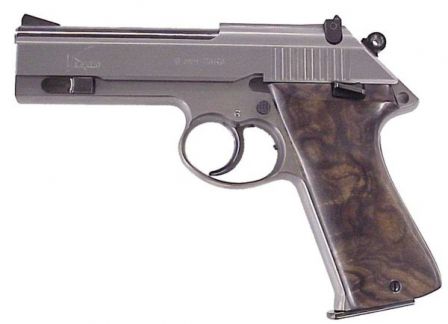 Korth pistol, left side.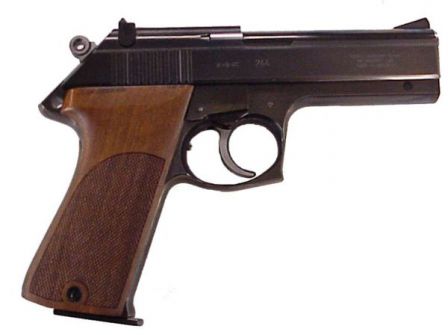 Korth pistol with alternative shape of trigger guard and black polished coating.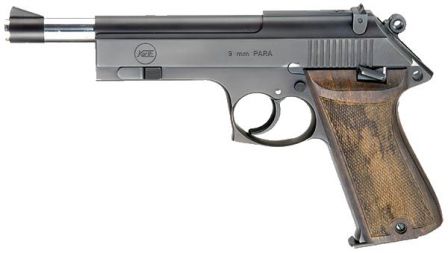 Korth pistol with long barrel.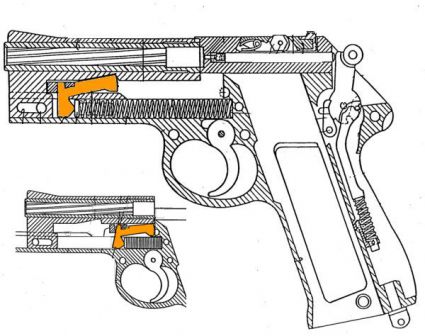 Diagram from original patent, issued to Willie Korth in 1986. Locking piece is marked with orange color.
Characteristics
| | |
| --- | --- |
| Type | Double or Single Action semiautomatic |
| Caliber(s) | 9×19 Luger, 9×21 IMI, .357SIG, .40SW |
| Weight unloaded | 1240 g |
| Length | n/a |
| Barrel length | 100 or 127 mm (4" or 5") |
| Magazine capacity | 10 (9mm) or 9 (.357, .40) rounds |
Korth pistols were developed circa 1982 by renowned German gunmaker Willie Korth, who was known as a maker of fine custom revolvers since mid-1960s. First "production" Korth pistols appeared in 1985, and since then those are produced on very limited basis. These pistols represent high end, custom European guns, with as much as 70% of hand labour and hand fitting used in manufacture of each pistol. Korth pistols available in a variety of calibers and finishes; prices on these pistols usually start at several thousands of US Dollars or Euros.
Korth pistols are of all-steel construction, with al parts hand-fitted and heat-treated for maximum durability and accuracy. Korth pistol use proprietary locking breech, short recoil action patented by Willie Korth in 1986. This action uses vertically tilting locking piece, located below the barrel, which locks the barrel to slide when in battery. On recoil, the locking piece slides down, releasing itself from the locking notch in the barrel and allowing the slide to open while barrel is stopped. Trigger on Korth pistols could be either of DA/SA or SA (special order) type; standard safeties include automated firing pin block and loaded chamber indicator; manual safety is optional. Sights are adjustable, with target-type rear sight blade on most models.