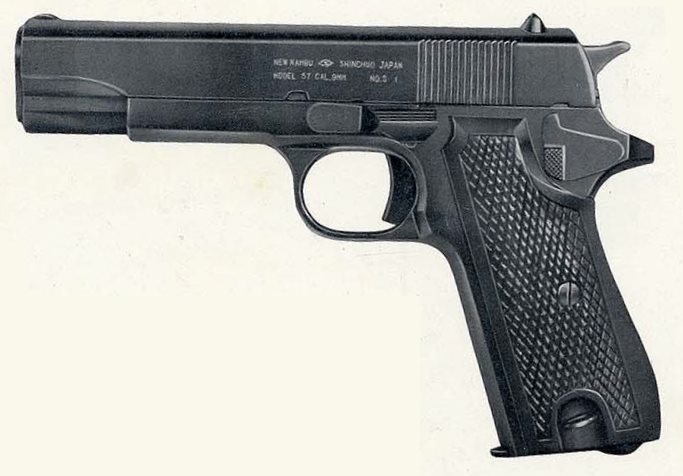 9mm New Nambu M57 pistol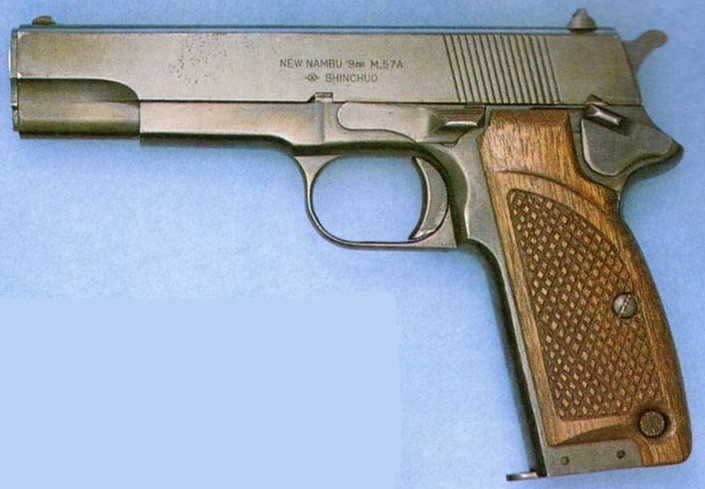 9mm New Nambu M57A pistol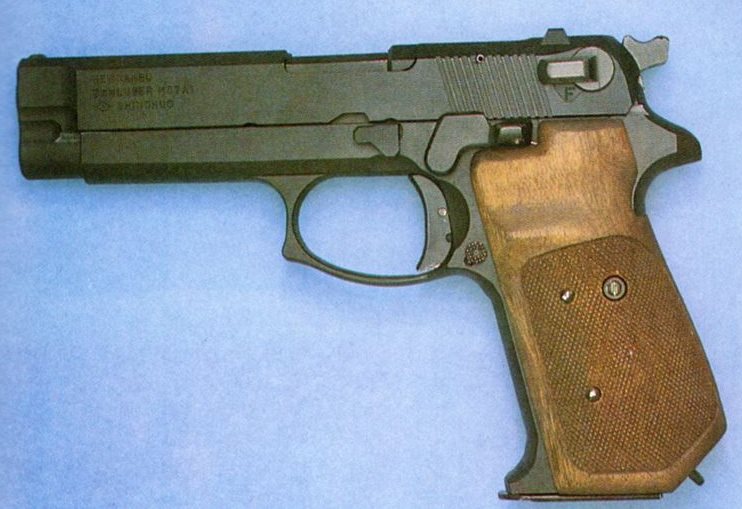 9mm New Nambu M57A1 pistol

7.65mm New Nambu M57B pistol
| | | |
| --- | --- | --- |
| | New Nambu M57A M57B | New Nambu M57B-eng |
| Full text name | Пистолет New Nambu M57 M57A M57B (Нью Намбу модель 57, 57А, 57В) (Япония) | New Nambu M57B |
| Caliber cartridge | 9mm Luger - 9x19 Luger / Parabellum | 7.65x17SR, 7.65mm Browning, .32 ACP |
| Action type | semi-automatic | semi-automatic |
| Overall length, mm | 200 | 156 |
| Barrel length, mm | 117 | 87 |
| Weight empty, kg | 0,9 | 0,61 |
| Magazine capacity, rounds | 8 | 8 |
New Nambu model 57 pistols represent two distinctive types of service handguns, developed during mid- to late 1950s in Japan by Shin Chuo Kogyo K.K. company. The New Nambu Model 57 pistol, also known as Model 57A or simply M57A pistol, was a military-type handgun developed on request from JSDF to replace US-supplied M1911A1 pistols and revolvers with a lighter and handier weapon with less recoil. The much smaller and lighter New Nambu model 57B (M57B) pistol was a concealed carry handgun proposed for use by various domestic security services. Despite appearance of the M57A, JSDF turned it down for political reasons, because US armed forces that were stationed in Japan still used .45ACP handguns and submachine guns. The smaller New Nambu M57B was also turned down in favor of the domestically made New Nambu model 60 revolver. Neither gun was produced in quantity. During early 1980s the M57A was briefly resurrected in a second attempt to become JGSDF 9mm service pistol, in much modified New Nambu M57A1 version. However, in 1982 it lost the trials to Swiss-designed Sig-Sauer P220, and this was the end of the New Nambu pistols line.
The New Nambu M57A pistol is short recoil operated, locked breech pistol which uses modified Browning-type locking with underbarrel cam slot that controls locking and unlocking. The single action hammer unit is conceptually similar to that of the Soviet Tokarev TT pistol, as it is made as a removable block. Pistol is equipped with manual safety on the frame and automated magazine safety. Feed is from single stack box magazines, with magazine release located at the bottom of the grip.
The New Nambu M57B pistol is a simple, blowback operated pistol based on the FN Browning M1910 design. It uses single action trigger with external hammer and manual frame-mounted safety. Magazine release it at the bottom of the grip.