Dragunov SVD Sniper Rifle, with modern polymer stock

Dragunov SVDS Folding Stock Sniper Rifle


Modified SVDM sniper rifle, with 1P88 telescope sight and bipod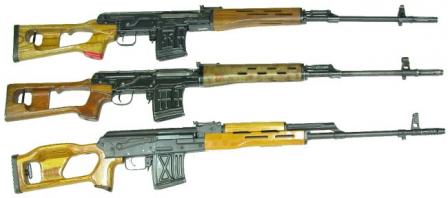 Foreign SVD clones and look-alikes: top to bottom Al Kadesih rifle (Iraq), Type 85 rifle (China) and FPK rifle (Romania). Note that only two former rifles are true clones of SVD; the latter one, FPK in fact is a modified Kalashnikov AK rifle restyled to look like SVD and chambered for 7,62x54R.
SVD
SVDS
SVDM
Caliber
7.62x54R
Operation
gas operated, short stroke, rotating bolt; semi-automatic
Length (with stock folded), mm
1225
1135 (875)
1135 (875)
Barrel Length, mm
620
565
565
Weight, w/o ammunityion and scope, kg
3,9
4,5
5,3
Magazine capacity, rounds
10
The Dragunov SVD sniper rifle was not intended as a "standard" sniper rifle in the usual accepted meaning of the term. In fact, the main role of the SVD rifle in the Soviet / Russian Army is to extend the effective range of fire of every infantry squad out to about 600-800 meters and to provide specialised fire support. The SVD is a lightweight and highly reliable rifle, capable of rapid and accurate semi-automatic fire.
Dragunov SVD sniper rifles were created to meet Soviet army requirements that were issued in 1958. It was tested against several rivals during official trials, and won. In 1963 the new SVD (Snaiperskaya Vintovka Dragunova, or Dragunov Sniper Rifle) was accepted by the Soviet Military.
The SVD can use any kind of standard 7.62x54R ammo, but its primary round is a specially developed 7N1 sniper-grade cartridge with steel-core bullet. Every infantry squad in the Russian (Soviet) army had one man armed with an SVD rifle. It is also widely used by various Special Forces in Russia and abroad, as well as by specialised police SWAT-type units.
Variations on the SVD..
It must be noted that several countries produced SVD copies or look-alikes. Of those, the "true" clones (rifles that have similar internal design) are Iraqi Al Kadesih (also known as Al Kadesiah) rifle and Chinese Type 85 (in 7,62x54R) and NDM-86 (in 7.62x54R and also 7.62x51mm NATO). Others, such as the Romanian Romak FPK or Serbian Zastava M76, are only look-alikes as their internal design is different and usually based on the Kalashnikov AK assault rifle.
Russia also produces a civilian version of the SVD, known as "Tigr" (Tiger), in 7,62x54R and 7,62x51mm NATO (.308 Win). This rifle usually  has a shorter barrel, although it is available in several different versions. An older hunting version of the SVD, the "Medved" (Bear) is no longer produced and is quite scarce.
Changes in tactical requirements brought up several modified versions of the venerable Dragunov sniper rifle. First came the SVDS folding-stock sniper rifle. Designed for Airborne and other specialised troops, SVDS features a shorter barrel and side-folding shoulder stock.
Later on, a modified SVDM sniper rifle came into existence. Based on the SVDS, it features a thicker and heavier barrel, delivering better accuracy, improved ergonomics, adjustable side-folding shoulder stock, and, last but not least, the integrated Picatinny rail pinned to the redesigned top cover.
This allows the use of modern day and night optics. Standard daytime optics for the SVDM are the variable power 1P88-4 (1П88-4) telescopic sight. The SVDM rifle can also  be used with a detachable bipod, and, for special operations, with quick-detachable sound suppressor. Iron sights are redesigned in this model, with simplified rear sight and new front sight located above the gas block.
Technical Description:
The Dragunov sniper rifle (SVD) is a gas-operated, semi-automatic weapon. It utilises a short-stroke gas piston located above the barrel, and the gas chamber has a two-position manual gas regulator. The barrel is locked by a rotating bolt with three lugs. The receiver is machined from a steel block.
The safety is somewhat reminiscent in appearance to that of the Kalashnikov AK-47/AKM assault rifle, although the internal design of the trigger unit differs substantially, and there's no provision for full automatic fire. The trigger unit is assembled on a separate removable base that also incorporates a trigger guard. The second, smaller lever, located on the right side of the receiver behind the safety, is a receiver cover catch, which is used to disassemble the gun.
Standard furniture includes a skeletonized wooden butt and a removable wooden handguard. Late production models feature polymer handguards and polymer skeletonized butt. The short SVDS rifle is fitted with a separate pistol grip, made of plastic (polymer), and a side-folding metallic buttstock.
All SVD type rifles are equipped with adjustable ironsights as a back-up measure. SVD and SVDS rifles have a proprietary side rail mount on the receiver, which will accept telescopic or IR sights on quick-detachable mounts. Standard telescope sight for SVD and SVDS is the 4X fixed magnification PSO-1 with range-finding reticle.
Freefloat Chassis upgrade kit for Dragunov platform by Sureshot Armament Group (SAG)
The SVD Dragunov Freefloat chassis was developed by Russian shooter and designer Valentin Vlasenko. It is currently being manufactured by SAG. The chassis consists of a monolythic upper, lower handguard and steel barrel nut.
This chassis freefloats the barrel, eliminating POI shift and allows the use of modern day riflescopes and all variety of NV \ Thermal Adapters. These will stay in place during gun disassembly\reassembly for cleaning. The Monolythic upper provides the user with 470mm of top MIL-STD-1913 rail and keymod \ M-LOK interface on the 3, 9 and 6 o'clock.
The chassis can be installed by the user in the armory of the unit or in the workshop. Once installed it adds just 200-250 grams to the weight of the rifle. The design is patented. At the present time SVD and SVDS rifles equipped with this chassis are being field-tested by Russian FSB and SSO units.