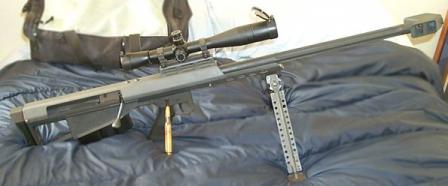 Barrett M95, another view.
image by: Bill Gritton
data for Barrett M95 rifle
Caliber: .50 BMG (12.7 x 99mm)
Operation: Bolt Action
Overall Length: 1143 mm
Barrel Length: 737 mm
Feed Device: 5 Round Detachable Box Magazine
Sights: 10X Telescopic
Weight: 9.98 kg empty, without scopeљ
Muzzle Velocity: 854 m/s (M33 Ball)
Expected accuracy: about 1 MOA or better with match grade ammunition
Maximum Effective Range: about 1800 meters (depending on the environmentconditions and the target)
The M90 rifle was developed in 1990 by the American company Barrett Firearmsco for those customers who want or needed a .50 caliber rifle but prefer a boltaction instead of the semi-automatic design, offered in the Barrett's' flagshipmodel, M82A1. The new rifle also was lighter and some30 centimeters (12") shorter than the M82A1, and also about 30% lessexpensive (comparing current MSRP of M82A1 and M95). After initial experiencewith this rifle it was replaced in production in 1995 by the slightly upgradedM95 model rifle, which is still in production. It is used by civilian long rangecompetition shooters across the world, and by various military and lawenforcement forces. It is not so popular across the government users, unlike theBarrett M82A1. In the year 1999 the M95 won the US Army competition for XM-107.50 caliber sniper rifle, and was subsequently bought by US Army in small numberfor further research and testing. The Barrett website also announces that M95rifle is used for military and law enforcement applications in at least 15 othercountries. Like the M82A1, the M95 primary application are anti-materiel andcounter-sniper operations and explosive ordnance disposal.
M90 is a manuallyoperated, bolt action rifle of bullpup layout. The rotating bolt has threemassive lugs that locks directly into the barrel. The long fluted barrel issimilar to one used in M82A1 rifle and has the same two chambers reactive muzzlebrake. The receiver is made from stamped sheet steel and consists of two parts(upper and lower), connected by the push-pins. The detachable box magazine isshallower than one found on M82A1 rifles and holds only 5 rounds. The pistolhandle ant the trigger are located just ahead of the magazine, the buttpad isattached directly to the receiver. M90 has no open iron sights, but features ascope mount on the top of the receiver. It is most commonly fitted with 10XLeupold M series telescope sights. M90 does not intended to be fired from theshoulder, and it has integral folding bipod mounted on the front end of thelower receiver.
The M95 is an improved version of the M90. It featured apistol handle and the trigger unit moved forward for 1 inch (25 mm) for betterclearance between the magazine and the pistol grip, and thus more comfortablehandling and shooting. The bolt handle is slightly redesigned and bent down andto the rear. The barrel chamber is chrome plated for better extraction andcorrosion resistance. There are also some minor improvements in the trigger /firing pin mechanism.