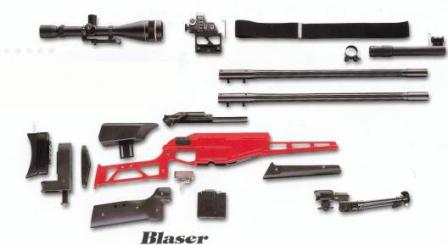 Blaser R93 Tactical disasembled with acessories.

Blaser R93 radial locking system.
images courtesy of Blaser
Caliber(s): 7.62mm NATO (.308Win), .300 Win magnum, .338 Lapua, 6.5x55mm
Operation: Straight pull, Bolt Action
Barrel: 600 mm
Weight: 5 kg
Length: ?mm
Feed Mechanism: 5 round box mag. (4 rounds for .300Win mag)
This model was introduced in 2000 to replace its predescessor – Blaser MOD 93 LRS tactical.Rifle has quick interchangeable barrels, allowing usage of standart and magnum calibers in one rifle. Blasers' standart straight-pull bolt action enables faster second shot in tactical situations. This rifle also featured ajustable polymer stock and ajustable direct pull trigger.
This rifle uses Blasers' patented straight pull action, that is very fastand very strong . The "radial locking system " takes place directly in thebarrel. There are 14 segments which fit into a groove at the rear end ofthe barrel when the bolt is closed.
Barrels may be changed in less than one minute, without the need to resight the scope. Blaser's proprietary scope rings mounts directly to the barrel.
Accuracy is Sub-MOA, when using match grade ammunition.
This rifle is widely used by German and Dutch police, in 7.62mm NATO (.308 Win) and .300 Win magnum calibers.