7.62mm ORSIS T-5000 precision sniper rifle, short-barreled version


7.62mm ORSIS T-5000 precision sniper rifle, standard version with Night Vision adapter installed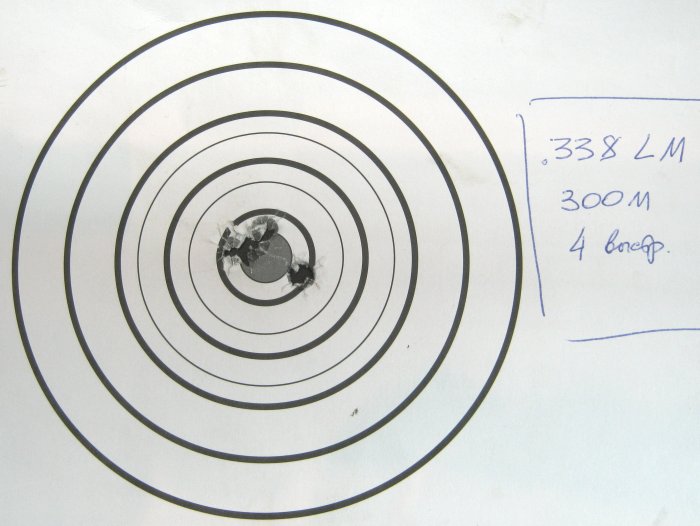 4-shot group, fired outdoors at 300 meters from ORSIS rifle chambered in .338 LM
| | |
| --- | --- |
| Caliber | 7,62×51 (.308 Win), .338 Lapua Magnum |
| Type | Rotary bolt action |
| Length | |
| Barrel length | 610 mm |
| Weight | 5.6 kg |
| Magazine capacity | 5 or 10 rounds |
Line of precision hunting, target and tactical (sniper) rifles, produced in Russia under the ORSIS brand, is one of the most modern and best made Russian small arms. Privately-owned ORSIS rifle factory is located in the city of Moscow, and is run by renowned world-class long range shooters, supported by hand-picked development and production team. ORSIS factory commenced production of precision rifles early in 2011, by offering a broad line of rifles based on the same manually operated bolt action, including hunting, target and tactical / sniper rifles.
It must be noted that all components of the ORSIS rifles are made in house, including CNC-machined bolts, actions and trigger units, precision-cut barrels made from highest grade barrel steel, as well as polymer, wooden or aluminum stocks. So far early production ORSIS rifles displayed excellent accuracy under the 'real life' field conditions, routinely shooting 300-meter groups as small as 0.5 MOA, and often even better. Several ORSIS T-5000 tactical / sniper rifles are reported to be submitted for trials by Russian government.
ORSIS T-5000 sniper rifles are built on the manually operated bolt actions with more or less traditional dual front locking lug bolts. All actions are machined from high grade stainless steel, and are available in right- or left-hand versions and two basic sizes – standard (suitable for cartridges such as .308 Win and the like) and long (suitable for Magnum-class long range cartridges such as .338 LM). All actions are equipped with stainless-steel match grade barrels, bored, rifled, chambered and externally machined in-house, using state-of-the art CNC equipment. Barrels of the tactical rifles are threaded at the muzzle to accept muzzle brakes or other muzzle devices.
Trigger units are also of indigenous design and manufacture, made from quality steel. Trigger pressures can be adjusted between 500 and 900 gram or between 1000 and 1500 gram, all other critical parameters (such as trigger overtravel) also can be adjusted according to user preferences. Manual safety is conveniently located at the rear of the bolt and has three positions – "Fire", "Safe", and "Safe, bolt locked"/
ORSIS T-5000 sniper rifles are fed using detachable box magazines with 5- or 10-round capacity. Standard stock for ORSIS T-5000 sniper rifle is built on aluminum chassis, with glass bedding. Shoulder stock is side-folding and has proprietary hinge design and lock, made of steel for maximum stability and durability. Pistol grip and cheek rest are made from plastic.
ORSIS T-5000 sniper rifle in its standard configuration is not equipped with iron sights. Instead, Mil-Std 1913 (Picatinny) rail is provided at the top of the receiver, which allows installation of any type of day or night scope, according to user needs and capabilities. Other accessories may include detachable bipods of various design, sling swivels etc.