The DSR-1 sniper rifle in basic configuration.
Image: DSR-precision GmbH


The DSR-1 'Subsonic' sniper rifle in integrally silenced configuration.
Image: DSR-precision GmbH

The DSR-1 sniper rifle with quick-detachable tactical silencer.
Image: DSR-precision GmbH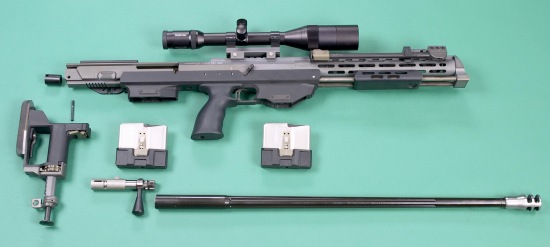 The DSR-1 field-stripped into major components.
Caliber(s): 7.62x51mm NATO (.308Win), .300 Winchester Magnum, .338 Lapua Magnum
Operation: bolt action
Barrel: 660 mm
Weight: 5.9 kg unloaded, without scope
Length: 990 mm
Feed Mechanism: 5 (.308) or 4 (.300WM and .338LM) rounds detachable box magazines
The DSR-1 rifle was designed by certain German former military ordnance engineers and bench-rest gunsmiths. This rifle is manufactured since 2000 by German company DSR-Precision GmbH. Before 2004 the same rifle was also sold by another German company, the AMP Technical Services, which was a non-exclusive dealer of DSR-Precision but is no longer so. At the present time DRS 1 rifle is being marketed by its only manufacturer, DSR-Precision GmbH. The DSR 1 is a specialized sniper rifle (not a conversion of the standard military or hunting gun). It is adopted by German GSG 9 counter-terror group, as well as by some other elite European law enforcement agencies and certain non-European military Special Operations forces.
The DSR-1 is configured into bull-pup design, with free-floating barrel. The folding bipod is mounted onto upper rails (above the barrel), and the adjustable horizontal front grip is mounted on the lower rails (under the barrel). The rifle features fully adjustable buttstock and cheekpiece. The holder for spare magazine is installed in the front of the triggerguard to decrease reloading time or to have different type of ammunition (i.e. armor piercing) handy. DSR-1 action features match-grade, fluted barrel that is quickly interchangeable and is fixed into receiver by three screws. The action is designed for .338 Lapua Magnum ammunition, with conversion kits available for smaller calibers such as .308 Winchester or .300 Winchester Magnum. The bolt features six radial lugs that lock directly into the barrel. The barrel is protected by ventilated aluminum handguard and is fitted with muzzle brake (very useful when firing full-power magnum loads). The integrally silenced version of the DSR-1, also known as DSR-1 Subsonic, is unusual in the fact that the silencer is attached to the receiver rather than the barrel. Thus, the barrel is still free-floated within the silencer, and this guarantees consistent shot-to-shot accuracy. The trigger is two-stage, adjustable. DSR-1 features manual, ambidextrous three position safety, located above the triggerguard.
The expected accuracy of the DSR-1 is almost extreme: some sources state sub-.2 MOA accuracy (0.20 inch / 5 mm groups measured center-to-center at 100 yards) when shot by experienced operator, with correct ammunition and in good environment conditions.