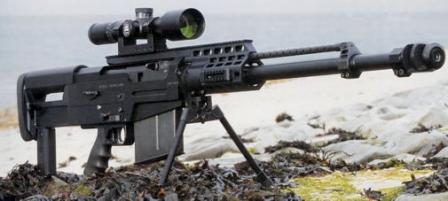 Accuracy InternationalAS50 sniper rifle.
Caliber: 12.7x99mm / .50BMG
Operation: gas operated, semiautomatic
Barrel: 692 mm
Weight: 14.1 kg empty
Length: 1369 mm
Feed Mechanism: 5 rounds detachable box magazine
The AS50 fifty caliber (12.7mm) sniper / antimateriel rifle is the latest development of the famous British company Accuracy International Ltd. First displayed in January 2005 in USA at the ShotShow-2005, this rifle reportedly has been developed especially for US SOCOM users, and is now being tested by the USNAVY Special Operations center. The AS50 is to provide combat operators with highly accurate and rapid aimed fire at extended ranges. To achieve such goal,the AS50 is built around gas operated, semiautomatic action, with "singlerear locking" (most probably, this mean a tilting bolt). The two-part receiver is machined from high grade steel, the barrel is free-floated andfitted with effective muzzle brake. Easily detachable buttstock is fitted with recoil-reducing buttpad, as well as with folding rear grip, which also serves asa rear support leg. The folding quick-detachable bipod with adjustable legs is fitted as a standard. Top of the receiver is equipped with full length Picatinnytype rail which can accept any compatible scope mount; two additional rails are mounted on either side of the short handguard / barrel jacket. Rifle is fitted with four sling mounts, and can be brought down to basic sub-assemblies within three minutes for maintenance or compact transportation or storage. Rifle is fed using single stack detachable box magazines, which holt five rounds of ammunition.