PSL / FPK / Romak-3 sniper rifle

PSL / FPK / Romak-3 sniper rifle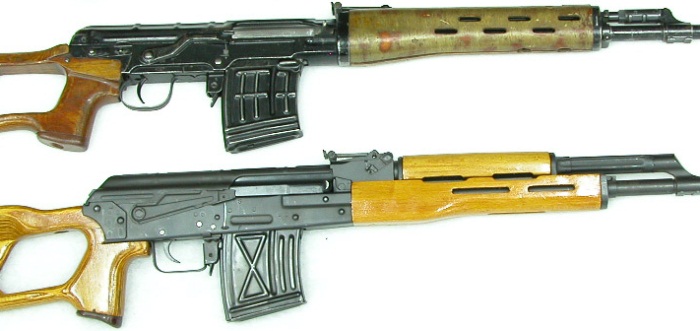 PSL / FPK / Romak-3 sniper rifle (below) compared to Soviet Dragunov SVD rifle (above)
| | |
| --- | --- |
| Caliber | 7,62x54R |
| Action | Semi-automatic, gas operated |
| Overall length | 1166mm |
| Barrel length | 605 mm |
| Weight, with empty magazine | 4.3 kg |
| Magazine capacity | 10 rounds |
PSL semi-automatic sniper rifle was developed during early 1970s in Rumania as a tactical equivalent to Soviet Dragunov SVD sniper / designated marksman rifle. It entered production at RATMIL arsenal in around 1973, and was issued to Rumanian army and sold for export, most notably to Middle East (including Iraq). Since dissolution of the Warsaw Pact many PSL rifles were manufactured by CUGIR for commercial export sales. In USA these rifles were sold under variety of names, including PSL, FPK and Romak-3.
PSL stands for Puşcă Semiautomată cu Lunetă, which translates from Rumanian as "Semi-automatic rifle with scope". It bears external similarity to Soviet Dragunov SVD rifle, but differs noticeably from it in almost every part and detail. PSL rifle is based on Kalashnikov AKM / RPK design, with receiver and action parts appropriately stretched and strengthened for longer and more powerful 7,62x54R cartridge. Accuracy of the PSL / FPK rifles may differ greatly from one specimen to another, generally in 1 – 3 MOA range with good ammunition.
PSL sniper rifle is a semi-automatic, gas operated weapon. It uses long-stroke gas piston and rotating bolt with dual locking lugs. Receiver is stamped from sheet steel, with machined trunnion pinned into its forward part and reinforcement plates pinned to its rear part. The trigger and manual safety represent that of AK rifle, although PSL is limited to semi-automatic fire only. Feed is from proprietary detachable box magazines with 10-round capacity. Wooden furniture consists of the thumb-hole shoulder stock with raised comb and wooden forend. Original PSL barrels were fitted with muzzle brake and bayonet mount, although many FPK / PSL / Romak-3 rifles made for commercial sales may lack the bayonet lug. PSL rifles are equipped with iron sights, with U-notch rear sight being adjustable for range between 100 and 1200 meters in 100-m increments, and a side rail for scope installation on the left receiver wall. PSL rifles were originally issued with 4X LPS-2 telescope sights, which are simplified copies of the Soviet PSO-1 sight. Military issue LPS-2 sights, made during 1970s, have had their reticles illuminated by radioactive tritium inserts, which has limited service life.