Early version of Chang Feng submachine gun chambered for 5.8×21 DAP58 ammunition; this weapon had dual feed option, with primary helical magazine located at the top of the receiver and secondary pistol-type magazine located in the rear grip.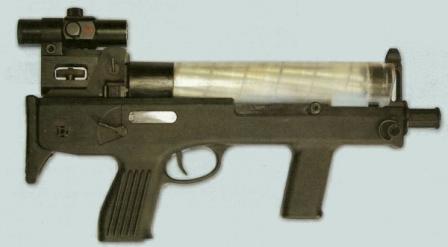 Current version of the Chang Feng CF05 submachine gun, chambered for ubiquitous 9×19 cartridge; secondary feed option with pistol magazine is omitted from design.Gun is fitted with red dot (collimating) sight.
This submachine gun has been developed by Chinese Chang Feng corporation for Compact Submachine Gun trials initiated by PLA (Chinese Army) in early 1990s.This weapon has been designed by the same people who previously designed the QSZ-92 pistol, which is now in use by PLA and PAP. This design (chambered for new Chinese 5.8×21 DAP-58 round) lost the military trials because of overly complicated design, and by now is used by some Chinese law enforcement agencies, chamberedfor 9×19 DAP-92 (Chinese version of 9×19 Luger/Parabellum) ammunition under designation of "9mm Type 06 submachine gun". It is also offered for export sales as either CF05 submachine gun or as CS/LS6 submachine gun.
The Chang Feng submachine gun is blowback operated and uses telescoped bolt which wraps around the barrel in forward position. Receiver is made from polymer and is open at the top; two pistol grips are integral to receiver. Primary feed is from helical magazine made from translucent polymer; magazine is located at the top of the weapon and is similar in design to magazines of US Calico submachine guns. Early prototypes also had secondary feed option, in the form of the QSZ-92 pistol magazine that was inserted into the rear pistol grip; it is not known how gun was fed if both magazines were inserted simultaneously. Chang Feng submachine gun is fitted with open sights, and has a mounting point for red dot or night sight just behind the rear sight block. Barrel of the weapon is threaded to accept optional detachable silencer. Shoulder stock is of telescoped (retractable) type, and is made from polymer.
| Specification | Value |
| --- | --- |
| Full text name | Chang Feng CF05 CS/LS6 Type 06 submachine gun (PR China) |
| Caliber cartridge | 9mm Luger - 9x19 Luger / Parabellum |
| Action type | select-fire |
| Trigger type | sa |
| Overall length, mm | 595 |
| Length, folded, mm | 412 |
| Barrel length, mm | 232 |
| Weight empty, kg | 2.2 |
| Magazine capacity, rounds | 50 |
| Cyclic rate of fire, rounds/min | 800 |