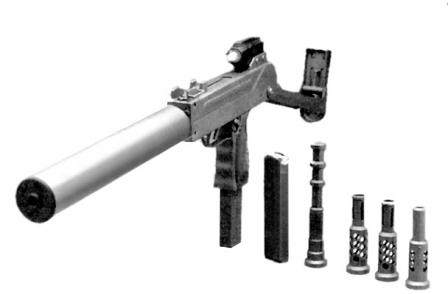 BXP.
Characteristics
Caliber: 9x19mm Luger/Para
Weight: 2.5 kg
Lenght (stock closed/open): 387 / 607 mm
Barrel lenght: mm
Rate of fire: 1000 rounds per minute
Magazine capacity: 22, 32 rounds
Effective range: 50-100 meters
The BXP submachine gun had been developed in the South Africa by Mechem company for police and military use in mid-1980s and brought into production in 1988. It was designed due to significant shortage of arms in the South Africa due to international sanctions against regime. The BXP bears significant similarity to the American-made Ingram MAC-10 submachine gun, having similar general layout, receiver and bolt design, but with some improvements.
BXP is a blowback operated, selective fire weapon that fires from the open bolt. The receiver is made from stamped steel and consist of two halves – upper and lower. The bolt, in closed position, "sleeves" around the rear part of the barrel to save the overall length of the gun. The cocking handle is located at the top of the receiver. Unlike the MAC-10, the BXP has ambidextrous safety lever and separate fire mode selector, built into the trigger – when trigger is pressed partially, a single shot is fired; when trigger is pressed all the way back, gun fires in full-auto. Additional safety feature is a interceptor notch in the bolt that catches the bolt if it is released during the cocking but prior to be caught by the sear.
Another interesting feature of the BXP is a wide variety of muzzle devices, including silencers, heat shields, and even grenade launchers, that allow to fire non-lethal and explosive projectiles by the means of blank cartridge. BXP also features underfolding buttstock, made from stamped steel. The standard sights are of open type, but BXP can be equipped with laser aiming modules and collimating sights.
The rate of fire is relatively high at some 1000 rounds per second but BXP is said to be adequately controllable and accurate.