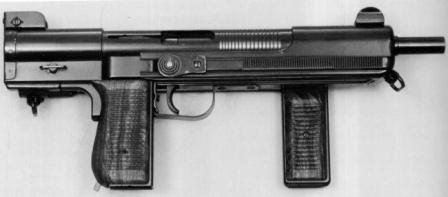 Mendoza HM-3 submachine gun, original 1970-80's era model, butt folded, magazine removed.

Mendoza HM-3 submachine gun, original 1970-80's era model, ready to be fired.

Mendoza HM-3S semiautomatic police carbine, current production model.
Characteristics
| | |
| --- | --- |
| Caliber | 9x19mm Luger / Parabellum |
| Weight | 2.7 kg |
| Length (stock closed/open) | 400 / 635 mm |
| Barrel length | 225 mm |
| Rate of fire | 600 rounds per minute |
| Magazine capacity | 32 rounds |
The Mendoza HM-3 submachine gun was designed by Hector Mendoza, son of the famous Mexican small arms designer Rafael Mendoza. This compact and modern weapon was subsequently adopted by Mexican military. Because of strict Mexican laws, it was never officially exported outside the country. In late 1990s Mendoza company began manufacture of an improved weapon, with modern polimer furniture and different cocking arrangements. This weapon still is known as HM-3 and is available in two basic versions – selective fire HM-3 for military use and semi-automatic only HM-3S for police and security use.
Mendoza HM-3 submachine gun operates on simple blowback principle, from open bolt. It can shoot semi-automatic or in bursts, with combined safety / fire selector switch being located on the right side of the gun, above the trigger. Mendoza HM-3 submachine gun features "wrap-around" bolt which is exposed for the most part of its length, with cocking serrations machined on either side of the bolt in front of ejection port. Feed is from detachable box magazines, which are inserted into the pistol grip. Buttstock folds horizontally to the left side of the gun, and forms a forward grip when folded.
The Mendoza HM-3S semiautomatic carbine is different that it fires from closed bolt, has a polymer furniture and an U-shaped cocking handle (instead of the serrations) above the still exposed bolt.