Armaguerra OG-43 submachine gun in combat-ready configuration
Armaguerra OG-43 submachine gunwith shoulder stock and foregrip folded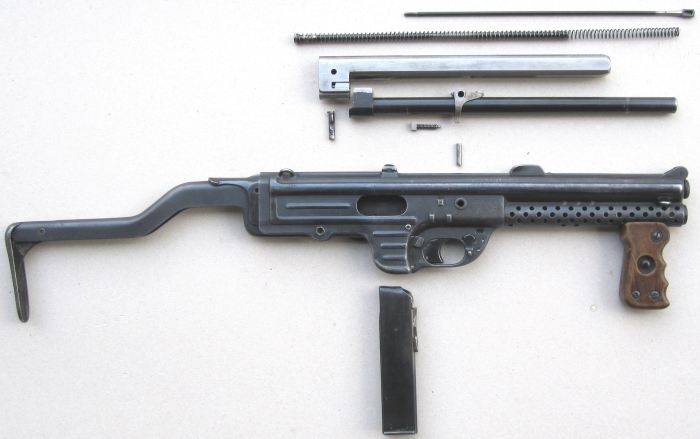 Armaguerra OG-43 submachine gunpartially disassembled

Armaguerra OG-44 submachine gunwith fixed stock
| | | |
| --- | --- | --- |
| | OG 43 | OG 44 |
| Caliber, mm | 9×19 | 9×19 |
| Length, overall, mm | ~ 720 / 470 | 787 |
| Weight, kg | N/a | 3,18 |
| Barrel length, mm | ~315 | 292 |
| Magazine capacity, rounds | 20, 30 or 40 | 20, 30 or 40 |
| Rate of fire, rounds per minute | 500 | 500 |
The Armaguerra OG-43 and OG-44 submachine guns, designed by Giuseppe Oliani during World War 2 (in 1943 and 1944 respectively) and bult by Armaguerra Cremona company, were very promising designs made largely of stamped steel and with an L-shaped bolt that has most of its weight located above the barrel, thus allowing for a shorter and lighter receiver. Only a few prototypes were made before the war ended, and after the war it could not compete with the already established Beretta line. Of those two weapons the latter model, OG-44, which had more or less traditional layout, is known much better than its predecessor, the OG-43. This earlier weapon is extremely rare, with probably only one specimen surviving to this day in a private collection. The OG-43 is historically important because it is probably the world's first submachine gun to combine stamped-steel construction, bolt with most of its weight in front of the breech face AND the magazine in the pistol grip, all in one weapon.
Both Armaguerra OG-43 and OG-44 submachine guns share same simple blowback action, using L-shaped bolt that has most of its weight located above and forward of its breech face. Firing is from open bolt, in single shots or full automatic mode, thanks to a dedicated fire selector switch. Most of the parts, except for springs, bolt and barrel are stamped from sheet steel and welded or pinned together. Armaguerra OG-43 submachine gun does not have a separate pistol grip. Instead, it has a stubby magazine housing behind the triger, and inserted magazine is used as a pistol grip. Charging handle is made in form of a slider and is located above the receiver. An additional folding forward grip is provided below the barrel, and a stamped steel shoulder stock folds down and forward when not required. Feed is from double stack, double feed box magazines, borrowed from Beretta M38A submachine guns. Standard sights are of fixed type, with flip-up rear blade marked for 100 and 200 meters.
Armaguerra OG-44 submachine gun differs from its predecesor by having more conservative layout, with dedicated pistol grip (made as a single unit along with stamped steel receiver) and magazine housing in front of the trigger guard. Armaguerra OG-44 weapons were made either with fixed wooden stocks or with top-folding metallic shoulder stocks.
Special thanks to Robert Weiersmüller from Switzerland for providing exclusive photos of the Armaguerra OG-43 submachine gun.