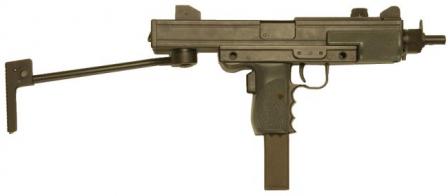 SOCIMI Model 821 submachine gun.
Characteristics
| | |
| --- | --- |
| Caliber | 9x19mm Luger / Parabellum |
| Weight | 2.45 kg empty |
| Length (stock closed/open) | 400 / 600 mm |
| Barrel length | 200 mm |
| Rate of fire | 550 rounds per minute |
| Magazine capacity | 32 rounds |
SOCIMI Model 821 submachine gun was developed in around 1982 as a joint effort between two Italian companies, the Societa Costruzioni Industriali Milano S.p.A. (SOCIMI) and Luigi Franchi S.p.A. This weapon was offered to all interested buyers until early 1990s, when the SOCIMI company finally folded. Some sales were reported in international literature, although exact details and buyers are generally unknown.
In its design the SOCIMI Model 821 submachine gun was heavily based on Israeli Uzi submachine gun, although it significantly differed in manufacturing techniques used to produce receiver and trigger housing – instead of stamped steel Italian engineers used aluminum alloy forgings. One interesting aspect of this weapon is that a special variant of the SOCIMI Model 821 submachine gun was designed especially to fire 9mm AUPO "caseless" ammunition, usually associated with experimental Benelli CB-M2 submachine gun. Appropriate version of this weapon was covered in US patent 4,895,064, issued to SOCIMI company in 1990.
SOCIMI Model 821 submachine gun is a blowback operated, selective fire weapon that fires from open bolt. Combined safety – fire selector switch is located on the left side of the gun, above the pistol grip. An automated grip safety is located at the rear of the pistol grip. Cocking handle is located above the receiver. Box magazine is inserted into the pistol grip. Gun is fitted with side-folding metallic buttstock, that folds horizontally to the right when not in use. The rear sight is of L-shaped flip-up type, with settings for 100 and 200 meters.