Cz-447 prototype submachine gun (1947).

Sa.24 submachine gun, with fixed wooden butt, caliber 7,62mm.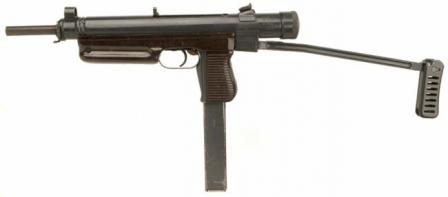 Sa.25 submachine gun, with folding butt in opened position, caliber 9mm.

Sa.25 submachine gun, with folding butt in folded position.

Sa.26 submachine gun, with folding butt in opened position. Note that magazineis sloped forward because of different ammunition used (7,62mm).
Characteristics
Caliber: Sa.23 and Sa.25 9x19mm Luger/Para; Sa.24 and Sa.26 7.65x25mm TT
Weight: 3.27 kg or 3.5 kg empty (with folding or fixed stock, respectively)
Length (stock closed/open): 445 / 686 mm
Barrel length: 284 mm
Rate of fire: 650 rounds per minute
Magazine capacity: 24 or 40 rounds (9mm) or 32 rounds (7.62mm)
Effective range: 100-200 meters
Soon after the end of WW2 the Czechoslovak army began the search for a new submachine gun for both infantry and non-infantry use. After much testing, a prototype Cz-447 (4th model, 1947)was selected for further development. It was designed by J. Holecek at arms factory in the city Uhersky Brod (now it is a famous CZ-UB arms factory). In mid-1948 the improved weapons were adopted by Czechoslovak army as "9 mm SamopalVz. 48a" (with a solid wooden stock; Samopal stands for "submachine gun" and Vz. stands for Vzor, or "model of") and "9 mm Samopal Vz. 48b" (with a folding stock). Production of new weapons commenced at CZ-UB in 1949, and early in 1950 both versions were renamed to Sa 23 (Samopal23, fixed but version) and Sa 25 (folding butt version). Later this year Czechoslovak army decided to retire both weapons, because, under pressure fromSoviet Union, it switched from 9×19 Luger pistol ammunition to 7,62×25 TT pistol ammunition. Basic weapons were quickly redesigned to fire "new" round,and were subsequently adopted in 1951 as Sa 24 (solid butt) and Sa 26 (folding butt). Most of 9mm Sa 23 and Sa 25 submachine guns were either passed down to local militia or sold for export as surplus; many of these guns later surfaced in countries like Cuba, Chile, Cambodia, Libya, Lebanon, South Africa and others. The service of 7,62mm versions was somewhat longer, but by early 1960s Czechoslovak army started to replace submachine guns with much more effective Sa.58 assault rifles.
One interesting aspect about those submachine guns is about its general layout.It is a generally accepted fact that Sa 23 and Sa 25 were the first production submachine guns to have magazines in pistol grip and wrap-around bolts. However,weapons of similar layout were designed in Great Britain toward the end of WW2,circa 1944-45. These prototypes are known as MCEM-2, and are very similar in appearance to Sa 25, which appeared couple of years later.
All Sa 23 series submachine guns are blowback operated, select-fire weapons which fire from open bolt. The trigger works as a fire selector – short trigger pull produces single shots, while long pull produces burst fire. The wrap-around bolt has firing pin fixed into it near its rear end and encloses the breech part of the barrel with the most of its length when closed. Box magazines are inserted into the pistol grip (much like most semi-auto pistols). All Sa 23 family SMGs have built-in magazine loading device at the right side of the handguard, which is designed for loading box magazines from 8-rounds stripper clips.The charging handle is located at the left side of the gun. The sights consist of hooded blade front and adjustable drum-type rear.
The 7.62 and 9mm models can be distinguished by the magazine insertion: 7.62mm models have magazines that slope forward whereas those of the 9mm models are vertical.