Smith & Wesson M76 submachine gun, left side; shoulder stock opened.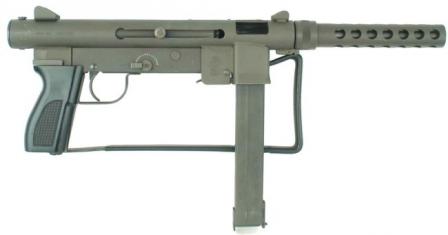 Smith & Wesson M76 submachine gun, right side; shoulder stock folded.
Characteristics
| | |
| --- | --- |
| Caliber | 9x19mm Luger / Parabellum |
| Weight | 3,2 kg empty |
| Length (stock closed/open) | 496 / 775 mm |
| Barrel length | 204 mm |
| Rate of fire | 720 rounds per minute |
| Magazine capacity | 36 rounds |
| Effective range | 150-200 meters |
The Smith & Wesson company is most famous for its long line of world-class revolvers, which was complemented by semi-automatic pistols sinceearly 1950's. It is less known fact that this company was also engaged in development of other small arms, including long guns and selective-friedweapons, for police and military use. The story of Smith & Wesson submachine gun began in around 1966, when US Navy failed to obtain a batch of Swedish CarlGustaf M/45 submachine guns for clandestine operations in South-East Asia.The peaceful Sweden blocked the sales of war materiel to USA, and US Navy went for domestic source of 9mm submachine guns. Seeing the need of US Navy, S&W decided to jump to the bandwagon and produce a gun for Navy, and done so in1967, producing a clone of Swedish M/45 submachine gun. However, by this time Navy dropped its requirement, and only several thousands of new submachine gun, designated as S&W Model 76, were manufactured for police and civilian sales until 1974 (before 1986, law-abiding citizens of US were able to legally purchase newly made selective-fired and full automatic weapons under NFA-34 legislation). At about the same time, Smith & Wesson company was researching the possibility of use of caseless ammunition with electronic ignition. For this purpose, in 1968 S&W engineers developed a prototype submachine gun based on Model 76, but with alterations necessary to fire electrically-primed caseless ammunition of 9mm caliber. The experimental gun looked much like the prototype, but it had a rectangular battery housing below the receiver, in front of trigger guard, which contained two 12-volt batteries. The gun fired quite well, but ammunition was a source of serious problems, as its caseless design provided no protection from elements or rough handling.
Later on, a very close copy of S&W M76 was made in both selective-fire and semi-automatic only versions by small US company MK Arms. This version was designated as MK-760.
Smith & Wesson Model 76 submachine gun is blowback operated,selective-fired weapon which fires from open bolt. The receiver is made fromsteel tube, with the pistol grip, and magazine housing welded to its bottom. The trigger housing with ambidextrous safety / fire mode selector switch can be removed from below the receiver during full disassembly. The feed is from double-stack magazines, inserted from below, ejection is to the right. Versions of Model 76 were made with or without perforated barrel jacket. The sights consisted of fixed blade front and fixed aperture rear, both mounted on receive rand protected by side "ears". The shoulder stock was made from steel wire and folded forward and to the left to save lenght.