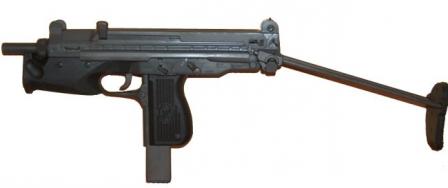 PM-98 submachine gun, buttstock retracted.

PM-06 submachine gun, buttstock retracted, with optional red-dot sight.

PM-06 submachine gun, buttstock collapsed.
Characteristics
PM-98
PM-06
Caliber
9x19mm Luger / Parabellum
Weight
2.3 kg empty
2.5 kg empty
Length (stock closed/open)
405 / 605 mm
395 / 610 mm
Barrel length
185 mm
185 mm
Rate of fire
640 rounds per minute
770 rounds per minute PM-98S
640 rounds per minute
Magazine capacity
15 or 25 rounds
15 or 25 rounds
The PM-98 submachine gun was developed in Poland as an improved version of the PM-84P Glauberyt submachine gun. The PM-98 shares same internal design, but features redesigned polymer handguard and charging handle. The magazine release catch was relocated to the base of trigger guard to faciltate faster reloading, and therefore magazines are not interchangeable between PM-84P Glauberyt and PM-98 submachine guns. The PM-06 is the latest version of the same line-up, and differs from the PM-98 submacine gun by having different buttstock (with three adjustable reatracted positions), improved front sight protection and a Picatinny rail on the top of receiver as a standard feature. A semi-automatic version of the PM-98 is manufactured for police and civilian (where legal) markets as BRS-99, in carbine (with buttstock) or pistol(without buttstock) form.
The PM-98 submachine gun is a simple blowback operated weapon that fires from closed bolt. Submachne gun features internal hammer unit and a rate-of-fire reduction mechanism (which is absent in the PM-98S version). Gun can fire in single shots or in full automatic mode, thanks to the combined fire mode selector / safety switch, located on the left side of receiver. It also features a bolt hold-open mechanism, with bolt release lever located in front of the safety / selector lever, above the grip. The single charging handle is located on the left side of the gun (as opposed to the PM-84). The polymer forend is hollowed at the front to provide installation point for a tactical flashlight or a laser aiming module. The buttsock is retractable, with dual stamped steel struts. The rear sight is adjustable for zeroing and is set for 75 meters range.