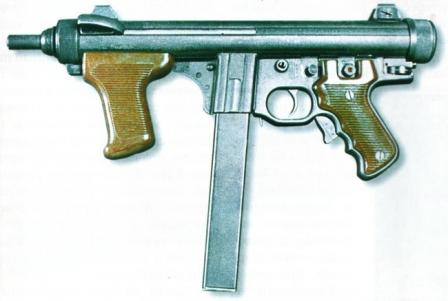 Beretta PM 12 (early version, with pushbutton safety); buttsock is folded.


Beretta PM 12S with open buttstock.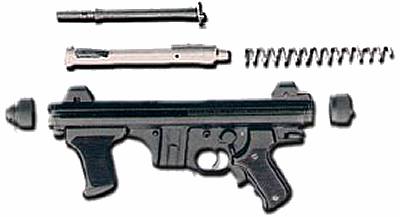 Beretta PM 12S partially disassembled.
Characteristics
Caliber: 9x19mm Luger/Para
Weight: 3.2 kg empty
Length (stock closed/open): 418 / 660 mm
Barrel length: 200 mm
Rate of fire: 550 rounds per minute
Magazine capacity: 20 , 32 or 40 cartridges
Effective range: 150-200 meters
The famous Italian arms-making company Beretta developed and manufactured a variety of submachine guns since the end of WW1. During the early 1950's, recognizing the need for a compact submachine gun, Beretta initiated a series of developments. These started with the prototype Model6 submachine gun of 1953.
This weapon employed a stamped steel construction, folding buttstock and an L-shaped bolt. Most of the bolt's mass was located above the barrel (wrap around bolt). The basic layout of the weapon was developed by 1957 with the prototype Model 10 submachine gun, and the final Model 12 emerged in 1958.
Production of the new submachine gun commenced in 1959, and in 1961 it was officially adopted by the Italian Government. It was also widely exported. Manufacturing licenses were sold to Brazil and Indonesia. During the early 1980's the basic design was improved with the introduction of the Model 12S submachine gun, which had an improved safety arrangement and several other minor changes.
The Model 12S, also known as PM 12S (Pistola Mitralligica, or machine pistol), is still being manufactured in Italy and Indonesia, and widely used by European and many other police and security forces.
Technical Description:
The Beretta Model 12 submachine gun is a blowback operated, selective-fire weapon that fires from the open bolt. The bolt is of telescoped design, and most of its weight is located in front of the breech face.
Tubular receiver is made from steel stampings, with stamped steel trigger and magazine housing below. Original PM 12 / Model 12 submachine guns featured separate manual safety and fire mode selectors, both in the form of cross-bolt buttons. Additionally, there was an automated grip safety below the trigger guard.
On PM 12S submachine guns, manual safety and fire mode selector were united into one three-position lever, located above the left grip panel. the automated grip safety was retained. The furniture included polymer front grip and a side-folding metallic buttstock. early Model 12's also could be fitted with a detachable wooden buttstock.