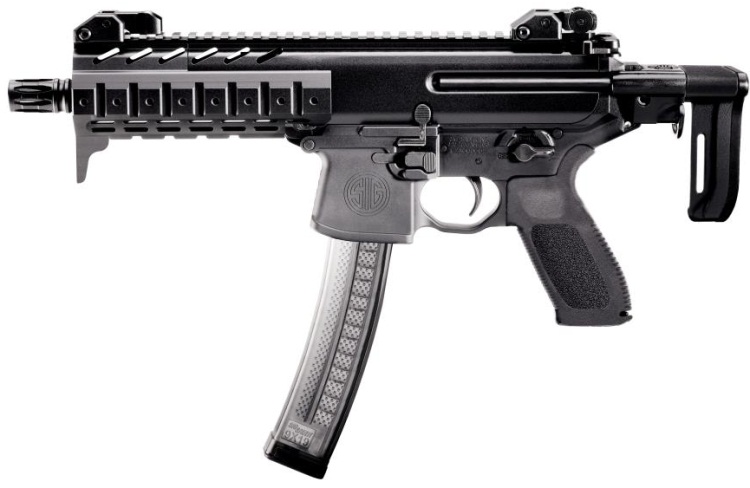 SIG-Sauer MPX submachine gun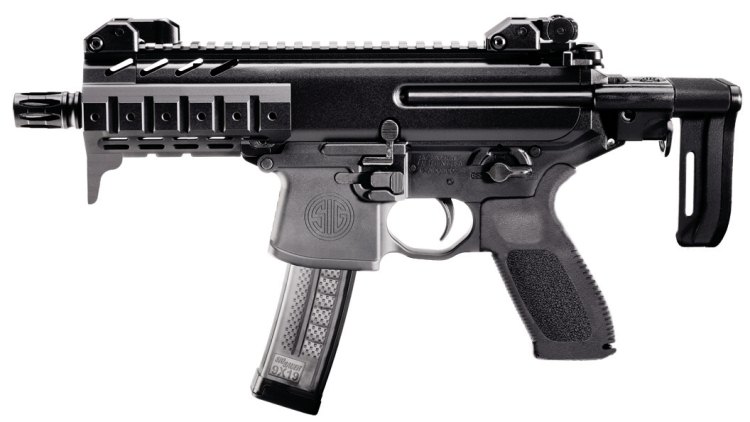 SIG-Sauer MPX-K compact submachine gun

SIG-Sauer MPX-S silenced submachine gun

SIG-Sauer MPX-C semi-automatic carbine
MPX

MPX-K

MPX-SD

Caliber, mm

9×19 Luger, .357 SIG, .40 SW

Length, overall

460 / 580 mm (18.1/22.8 in)

409 / 528 mm (16.1/20.8 in)

688 / 808 mm (27.1/31.8 in)

Weight, w/o magazine

2.1 kg (4.6 lbs)

2.0 kg (4.4 lbs)

2.9 kg (6.3 lbs)

Barrel length

165 mm (6.5 in)

114 mm (4.5 in)

165 mm (6.5 in)

Magazine capacity

10, 20 or 30 rounds

Rate of fire

850 rounds per minute
SIG-Sauer MPX is a newest product of the US branch of famous international arms-making company SIG-Sauer. First announced at Shot Show 2013, this submachine gun is available in several selective fire configurations for military and police use, as well as in semi-automatic only civilian-legal carbine version. Obviously, this new submachine gun is intended to compete with famous HK MP5 submachine gun on American market, but it also has strong export potential, especially if the price will be held at more competitive level.
SIG MPX submachine gun is a modular weapon which can be user-configured to fire three calibers (9×19 mm Luger/Parabellum, .357 SIG or .40 S&W), and features AR15-style controls and overall configuration, to shorten learning curve to operators already accustomed to M16 / M4 type rifles and carbines. Basic configurations of the SIG MPX are: standard version with 165 mm / 6.5" barrel, short version with 114 mm / 4.5" barrel (MPX-K with shoulder stock and MPX-P without shoulder stock) and integrally silenced MPX-SD. Civilian MPX-C carbine features same 165 mm / 6.5" barrel as a standard model, but with the permanently attached long muzzle brake / compensator to ensure overall barrel length of 16 inches to conform to US regulations. What is interesting about this muzzle device is that it can be easily converted into sound suppressor (silencer) by installation of the tubular sleeve and muzzle cap. Sound suppressors (silencers) are legal for civilians to own and use in many states of USA, but are regulated under NFA'34 legislation. Therefore it can be assumed that the sleeve and/or muzzle cap will be sold separately from the gun as NFA-regulated (Class 3) items.
SIG MPX submachine gun is built on the aluminum alloy receiver, patterned after the AR15 type receiver, but made necessarily shorter, and with shorter magazine well to accommodate dedicated pistol-caliber magazines. Unlike most other submachine guns SIG-Sauer MPX is gas operated weapon, utilizing short-stroke gas piston and rotary bolt locking. Despite claims of SIG-Sauer marketing department, the MPX isn't the "world's first" gas operated, locked breech submachine gun, as there are at least three production submachine gun with similar design features now in service worldwide – Chinese Type 79, German HK MP7 and Russian SR-2M.
SIG-Sauer MPX fires from closed bolt for enhanced accuracy and safety, and features hammer-fired trigger group with AR15/M16-style safety / fire selector lever. AR15/M16-style bolt hold-open device and charging handle are incorporated into the design. Barrels can be removed and installed by user with no tools, allowing for simple configuration and caliber change. Feed is from proprietary box magazines, made of translucent polymer and holding 10, 20 or 30 rounds. SIG MPX submachine gun can be equipped with 3-position telescoping stock, side-folding stock or no stock at all. Additional accessories can be mounted to Picatinny rails on the forend. Sights (iron, red dot or IR/Night) can be installed according to user preferences on the top Picatinny rail, made integral to the upper receiver.