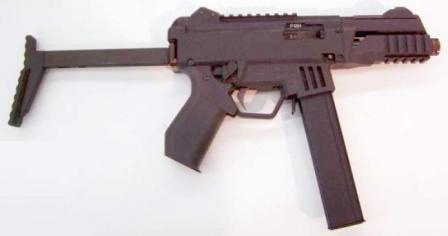 Prototype Laugo submachine gun, which served as a starting point for the design of SKORPION EVO III submachine gun.

SCORPION EVO III submachine gun.

SCORPION EVO III submachine gun.
Characteristics
| | |
| --- | --- |
| Caliber | 9x19mm Luger / Parabellum |
| Weight | 2.1 kg empty |
| Length (stock closed/open) | 400 / 650 mm |
| Barrel length | 196 mm |
| Rate of fire | 1100 rounds per minute |
| Magazine capacity | 20 or 30 rounds |
SCORPION EVO III submachine gun is a most recent product of the famous Czech small arms manufacturer Česká Zbrojovka Uherský Brod (CZ-UB). This weapon began its life in Slovakia in around 2002, as the Laugo submachine gun / personal defense weapon. Once the design became mature, it was sold to CZ-UB, which brought it to public attention in 2009 as SKORPION EVO III submachine gun. It seems that this weapon is targeted for police market, but it also can found some use by certain military units. An export version of the SKORPION EVO III submachine gun is also proposed, chambered for .40SW ammunition which is very popular as a police round in USA and certain South American countries.
SCORPION EVO III submachine gun is a simple blowback operated, selective fired weapon that fires from closed bolt. It has a separate hammer unit, with ambidextrous safety / fire mode selector, that offers single shots, 3-round bursts and full automatic fire modes. The charging handle is located on the left side of the gun, above the forend. The receiver, pistol grip / trigger unit and the forend all are made from polymer. The side-folding shoulder stock is also made from polymer, and can be adjusted for length of pull due to telescopic design. Iron sights are installed on removable bases, using integral Picatinny type rail on the top of receiver. Additional sighting equipment can be added using this same rail; three more accessory rails are installed at the sides and bottom of the forend. Feed is from detachable box magazines, made of semi-translucent plastic, that hold 20 or 30 rounds of ammunition.