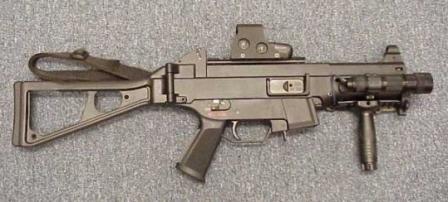 HK UMP-40 with optional equipment: red-dot sight, tactical frontgrip and flashlight.

HK UMP-9 (note curved magazine).
Characteristics
Caliber: .45ACP, .40SW and 9x19mm Luger/Parabellum
Weight: 2.1 – 2.2 kg empty
Lenght (stock closed/open): 450 / 600 mm
Barrel lenght: 200 mm
Rate of fire: 600 – 700 rounds per minute
Magazine capacity: 10, 25, 30 rounds
Effective range: 100 meters
The UMP submachinegun (Universal Machinen-Pistole = Universal Submachine Gun) was developed by the Heckler & Koch company of Germany in the mid to late 1990's. It first appeared on the international market in 1999.
The key idea behind the UMP was to create a lightweight and powerful submachine gun, that could be more cheaply produced than Heckler & Koch's premiere flagship submachine gun – the MP5. The UMP was created primarily with the American law enforcement market in mind, so therefore first appeared in .45ACP and .40SW chamberings, then later in 9mm (the UMP9).
The UMP is a blowback-operated select-fire submachine gun, fired from a closed bolt. The receiver is made of polymer and controls are fully ambidextrous. UMP can be fired in full-auto, in single shots, and in 2 or 3 round bursts (optional). It also has a bolt hold-open device, which traps the bolt in the open position when the last round from the magazine has been fired.
This submachinegun has a side-folding buttstock and two sets of picatinny rails – one on the top of the receiver, and the other on the forend. These rails can accept a wide variety of sighting and other equipment, such as red-dot sights, IR laser pointers, tactical grips and lights. The barrel has a quick mount for a snap-on suppressor (silencer).