Vickers-Berthier Mk.1 light machine gun.

Vickers-Berthier Mk.2 light machine gun.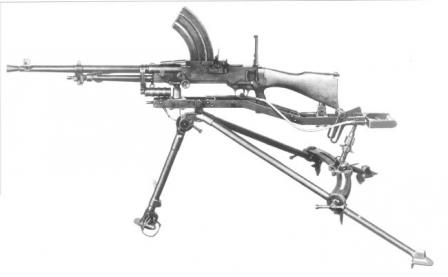 Vickers-Berthier Mk.3 light machine gun on tripod.
| | |
| --- | --- |
| Caliber | .303 Mk.VII (7.7x57R) |
| Weight | 9.4 kg |
| Length | 1180 mm |
| Barrel length | 607 mm |
| Feed | ~500 rounds per minute |
The Vickers-Berthier light machine gun came a long way, being first designed circa 1909 in France by Gen. Andre Berthier. After much development it was tested and even formally adopted by US Army in 1917. Despite the formal adoption, the Berthier gun was never produced in USA, mostly because of lack of manufacturing facilities during the war. When war ended, US Army showed little interest in Berthier gun, and after more development the designer finally sold manufacturing rights for his light machine gun to British Vickers-Armstrong Ltd company in 1925, which sought to complement its heavy Vickers-Maxim machine gun with lighter and more mobile weapon. It was offered for British army and was tested among other light machine guns, but finally lost to BREN gun.
Vickers-Berthier Mk.1 was the first production model, which was introduced commercially in 1928; it had a short forend under receiver and a finned barrel. Vickers-Berthier Mk.2, which was introduced in 1931 on request from Indian government, has a light forend, no monopod under the butt and barrel with no cooling fins. The Vickers-Berthier Mk.3 was further modification of the Mk.2 gun, introduced in 1933 and subsequently adopted by Indian Army. This machine gun had some parts strengthened, forend was omitted and a carrying handle was added to the quick-detachable barrel. Vickers-Berthier Mk.3 light machine gun was produced by Vickers-Armstrong in UK and by Ishapore Rifle factory in India.
Vickers-Berthier light machine gun was gas operated, selective-fired, air-cooled weapon which fired from open bolt. The long-stroke gas piston was located below the barrel. The locking was achieved by the vertically tilting bolt, which had a single locking lug on its top. The feed was from top-mounted box magazines Standard furniture of Vickers-Berthier light machine guns included a wooden buttstock and a pistol grip, and a folding bipod attached to gas tube; Mark 1 Vickers-Berthier guns also had short wooden forend under the front part of receiver, which was intended for "assault firing" from the hip, and a detachable "third leg" or monopod under the butt. The shape of the butt and forend was changed over the time with introduction of following Marks of the gun.