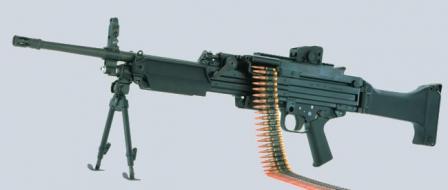 Early version of the HK MG 43 machine gun.


Production version of the HK MG4 as adopted by Bundeswehr, with telescope sightinstalled and bipod folded.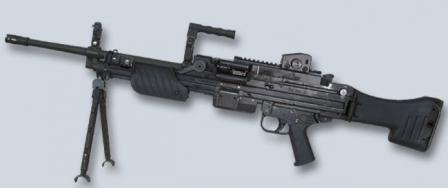 HK MG4 machine gun, with bipod and carrying handle extended and open sights installed.
HK MG4 / MG4 E
HK MG4 KE
Caliber
5.56x45mm NATO
Weight
8,1 kg (7.9kg MG4 E)
7,7 kg
Length
1030 mm
950 mm
Barrel length
482 mm
402 mm
Feed
belt
Rate of fire
880 (770 MG4 E) rounds per minute
770 rounds per minute
The HK MG 4 (original factory designation of the project was HK 43) is a light, 5.56mm machine gun, developed by famous German company Heckler & Koch as a direct rival to the well-established FN Minimi / M249 SAW LMG. The MG 43 was developed during late 1990s and first appeared circa 2001. It had been type-classified by the Bundeswehr (German Army) in 2003 as the MG4 light machine gun, and by 2007 is already in use as a ground and vehicle gun,gradually replacing older, but more powerful 7,62mm MG3 machine guns in German service. Recently HK has announced that Spain has ordereda slightly modified version of MG4, known as HK MG4 E (Export).
Like the HK G36 assault rifle, the MG4 is a quantum leap from earlier HK designs, which were based on Vorgrimler-designed,roller delayed blowback actions. MG4 is a conventional, gas operated design, and utilizes all current trends in small arms development, including polymers and accessory interfaces (Picatinny rails).
HK MG4 light machine gun is a gas operated, belt feed, air cooled automatic weapon. The gas group is located under the barrel and uses a conventional gas piston to operate bolt group. Barrel is locked using typical rotating bolt design. Barrel of the HK MG4 is a quick detachable, and has a folding carrying handle to assist replacement of the hot barrels. The two-pawlbelt feed is operated by the roller on the top of the bolt carrier. Belt is fed from separate or clamp-on plastic boxes, from left to right. Spent belt links are ejected to the right, spent cartridge cases are ejected down from the window on the bottom of the receiver.
HK MG4 light machine gun is fitted with folding bipod, integral to the for end, and has a standard interface for M2-type infantry tripod or vehicle mount. Plastic buttstock can be folded to the left side to save the space, and gun can be fired with the butt folded. HK MG4 is fitted with the Picatinny rail on the top of the receiver,and also is equipped with open sights as a standard. Front sight is mounted on the barrel and can be folded down when not in use. Rear sight is graduated up to1000 meters, mounted on the Picatinny rail and can be easily detached if not required.
Foldable charging handle is located at the right side of the receiver. Ambidextrous safety switch is located on the pistol grip, and allows only for full automatic fire mode.