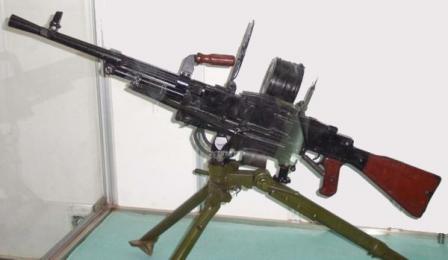 Type 67 machine gun on tripod, with 100-round drum belt container attached to the right side of receiver.

Type 67-2 general purpose machine gun on tripod; note that tripod is different from original type 67.

Type 67-2 general purpose machine gun in light machine gun role, on integral bipod.
Caliber: 7.62x54mmR
Weight: 11 kg (gun) + 13 kg (tripod, Type 67) or 5 kg (tripod, Type67-2)
Length: 1345 mm
Length of barrel: 605 mm
Feeding: belt, 100 or 250 rounds
Rate of fire: 650-700 rounds/min
Type 67 was the first Chinese general purpose machine gun, developed to replace earlier Type 53 and Type 57 7,62mm medium machine guns (license-built copies of Soviet SG-43 and SGM respectively). This weapon combined features borrowed from many other machine guns, and went through a number of variations, still serving with PLA (Chinese People's Liberation Army). Development of a new medium machine gun commenced in 1959, with first prototypes tested in 1963. At that time the concept of a new weapon was broaden from medium to universal machine gun. Adopted in 1967, it was improved with the introduction of the Type 67-1 in 1978. In 1982 PLA has adopted the Type 67-2 GPMG, which was somewhat lighter and used a lighter tripod. Type67-2 is so far a standard general purpose machine gun of PLA. It saw limited use during closing days of Vietnam war, and few guns of this type also found its way(through the Pakistan) into the hands of Afghanistan mujaheds that fought Sovie tarmy during early 1980s.
Type67 machine gun is gas operated, air cooled, belt fed machine gun that fires from open bolt. Barrel is quick-detachable. It uses ZB-26 type vertically tilting bolt to lock the barrel. Feed is from right side only,using steel, non-disintegrating belts with open pockets (type 67-2 belts are assembled from 25-round pieces using cartridge as an inter-link). To avoid two-stage feed with rimmed ammunition, Type 67 uses push-out type feed, where cartridges are pushed down and out of the link by the cams in the feed module, then fed forward and into the chamber by the closing bolt. Standard belt capacity is 250 rounds, but for LMG role 100-round belts can be loaded into drum-type container which can be clipped to the receiver. Belt is said to be incompatible with any other weapon. Early Type 67 machine guns had fluted barrels; Type 67-1 and 67-2 have smooth barrels, probably as a cost-saving measure, type 67-2 barrels also are somewhat lighter than earlier ones. Furniture (pistol grip and shoulder stock) was made from wood on Type67 and from polymer on later Type 67-1 and 67-2 weapons. Every Type 67 machine gun is fitted with integral, folding bipod, and also can be installed on infantry tripod. Type 67 and Type 67-1 tripods had legs made from heavy steel tubes;Type 67-2 tripod had lighter legs made from steel stampings.