7,62×51 mm HK 21 machine gun,original version.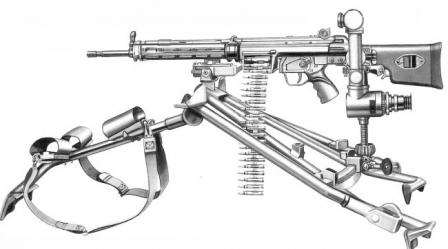 7,62×51 mm HK 21A1 machine gun, on tripod and with telescope sight.


7,62×51 mm HK 21E machine gun,definitive version of the line.


Original 7,62×51 NATO HK 11 light machine gun with double-drum 80-round magazine.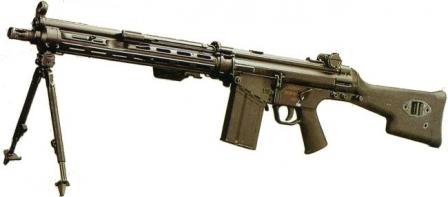 7,62×51 NATO HK 11E light machinegun with 20-round magazine.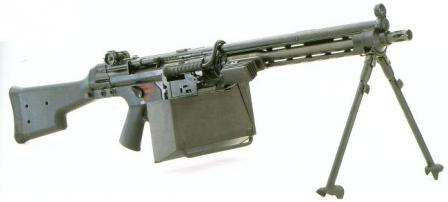 5,56×45 mm HK 23E machine gunwith belt box attached.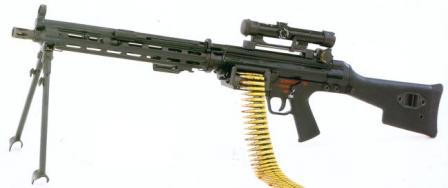 5,56×45 mm HK 23E machine gun with loose belt and optional telescope sight.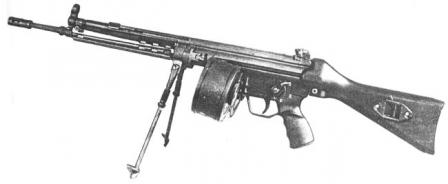 Early production 5,56x45mm HK 13light machine gun with 100-round double drum magazine.
Data forbelt-fed machine guns
HK 21E
HK 23E
Caliber
7,62×51 mm NATO
5.56×45 mm NATO
Weigth
9.3 kg on bipod
8.7 kg on bipod
Length
1140 mm
1030 mm
Length of barrel
550 mm
450 mm
Feeding
box magazine 20 or 30 rounds,
drum 80 rounds or belt 50 or100 rounds
box magazine 20 or 30 rounds,
drum100 rounds or belt 50 or 100 rounds
Rate of fire
800 rounds/min
800 rounds/min
Data for magazine-fed machine guns
| | | |
| --- | --- | --- |
| | HK 11E | HK 13E |
| Caliber | 7,62×51 mm NATO | 5.56×45 mm NATO |
| Weigth | 7,6 kg on bipod | 8.0 kg on bipod |
| Length | 1030 mm | 1030 mm |
| Length of barrel | 450 mm | 450 mm |
| Feeding | box magazine 20 or 30 rounds or double drum 80 rounds | box magazine 20 or 30 rounds or double drum 100 rounds |
| Rate of fire | 700 rounds/min | 700 rounds/min |
In1961 Heckler&Koch had completed about 1/3 of its first manufacturing contract for the G3 rifle. At this time the HK management decided that it would be worth the investment to develop a universal machine gun which would be as close to the new rifle, in terms of design and maintenance, as possible. The basic action of the new machine gun, which received the company designation HK 21, was similar to that of the G3 rifle. The HK21 fired from a closed bolt (not that big an issue since its heavy barrel was really quick-detachable) and, unlike most machine guns, its belt feed module was located below the receiver. This made the loading and unloading of the belt somewhat less comfortable than on other weapons, such as the MG 3. On the other hand, it allowed for the easy replacement of the belt feed module with a magazine adapter module, which permitted the use of standard G3 rifle magazines or specially developed 80-round double drums. The new machine gun was on the "light" side of the spectrum, although in its basic version it fired a full-power 7.62×51 NATO ammunition and a variety of tripods and other mountings were offered along with the gun. The HK 21 came too late to be seriously considered by the Bundeswehr, but it was tried and adopted by the Portuguese army, and number of weapons was also bought by other countries, such as Greece, Mexico, Sweden and some others, mostly African and Asian nations.
The HK 21 spawned a whole range of modifications and derivatives. Other than the basic 7.62mm NATO caliber, HK also offered its machine guns in US 5.56x45mm and Soviet 7.62×39 chambering.Early versions in these "additional" calibers also were offered under the designation HK 21, but later on HK adopted a special pattern for numbering, where first digit of model number designated a type of weapon (i.e. 1 – LMG with magazine feed, 2 – GPMG with belt feed, 3 –assault rifle, 5 – submachine gun etc), and second digit designated the caliber (1 – 7.62×51 NATO, 2 – 7.62×39 Soviet, 3 – 5.56×45 US). Therefore, belt fed HK machine guns were offered as HK 21, HK 22 and HK23. It must be noted that HK never manufactured weapons in 7.62x39Soviet in any significant numbers, and completely dropped this caliber from its catalogues by the 1980s.
In parallel with belt fed machine guns, HK also developed a number of magazine-fed light machine guns. While those could be classified as "machine rifles", most of these weapons are actually just conversions of belt-fed guns and, for example, any magazine-fed HK 11E can be converted to a belt-fed HK 21E configuration (assuming that all of the necessary parts are on hand) and vice versa.
One last notemust bemade concerning HK delayed blowback machine guns in 7.62mm NATO caliber. Those guns were lighter than most rivals (such as the MG 3 or FN MAG), and fired from a closed bolt, thus limiting the maximum effective range and sustained firepower capabilities. On the other hand, the stationary barrel and closed-bolt firing, combined with a selective fire trigger, allowed for very accurate semi-automatic fire.These guns were almost ideal squad automatic weapons: versatile,relatively lightweight and easily operated by one man.
Despite its failure in the US SAW program, HK kept updating its weapons. In about 1981 HK introduced new versions of its machine gun lineup,distinguished by the "E" model suffix, which stood for "Export". These weapons had longer receivers and barrel jackets, and thus were slightly heavier than their predecessors (especially in 5.56mm versions), and also had a number of other improvements. These weapons sold moderately well, mostly for export, and HK kept manufacturing them until very recently. It seems that HK gradually stopped the production of its roller-delayed machine guns by the early 2000's, as the current trends on the world small arms market are toward gas operated light machine guns in 5.56mm NATO caliber, such as HK's own MG4.
All Heckler & Kochmachineguns are based on the same delayed blowback action with a stationary barrel. The key differences between the various models of the same period are the feed type (belt or magazine) and the type of cartridge used, although in the "A1" and "E" modifications every gun can be converted from belt to magazine feed with the substitution of the appropriate parts, and HK 21 guns of the earliest make also could change caliber with the replacement of the barrel, bolt and certain parts in the feed. Barrels are quick detachable. A new barrel then can be inserted within a very short period of time.
The roller-retarded bolt system employs a two parts bolt with two rollers. The front bolt part (the bolt head) is relatively light and has a bolt face with an extractor on it. It also has a hollow cavity at the rear, in which the inclined forward end of the rear part of the bolt (bolt body) is inserted. The system features two rollers, inserted from the sides into the bolt head and rested on the inclined forward end of the bolt body.When the gun is fired, the pressure began to move the cartridge back against the bolt face. The rollers, which are extended into the recesses in the barrel extension, began to move inward into the bolt head, due to inclined shape of the recesses. This movement translates into the faster rearward movement of the heavier bolt body, so, at the initial instant of firing when pressure in the chamber is still high,the bolt face moves relatively slowly. As the pressure drops to areas on able level, the rollers gradually leave the recesses in the barrel extension; as soon as the rollers are completely pushed into the bolt, the bolt head and bolt body begin to move backwards at the same speed, extracting and ejecting the spent case and chambering a fresh cartridge on the way back. Since this system provides no positive initial extraction, the cartridge chamber is fluted to reduce friction.
AllHK machine guns fire from a closed bolt. The trigger / hammer units are made integral with the pistol grip, and hinged to the receiver at the front. Early guns had selective fire, with a three position safety /selector lever located above the trigger on the left side of the unit.Later guns added a three-round burst mode to the already available automatic and single-shot modes.
The charging handle is located on the left side of the barrel jacket, and folds forward when not used. It does not reciprocate when the gun is fired, and can be used to lock the bolt back for unloading, change of barrel or inspection.
Late production HK guns use modular feed units, attached to the bottom of the receiver by means of cross-pins. Available feed options are magazine feed or belt feed. The magazine feed unit will accept standard rifle-type magazines developed for HK assault rifles of the same caliber, or specially designed double drums. Belt feed units will accept standard disintegrating or non-disintegrating belts. Belt feed is from left side only. Early belt-fed guns had "unitary"feed modules, with the only way to load or unload the belt being pulling the belt through the unit. With the "A1" configuration, belt feed units were redesigned to accommodate a hinged bottom cover, which can be easily opened for rapid loading or unloading of the belt. The bottom of the belt feed module has a special interface which will accept 100-round (7.62mm) or 200-round (5.56mm) belt boxes.
HK machine guns are fitted with polymer butt stocks and detachable,adjustable, folding bipods. For "assault" missions, a forward vertical grip can be attached to the barrel jacket. Additionally, guns are fitted with a folding carrying handle, located at the center of mass.Other accessories include several types of tripods and vehicle mounts,made by HK and several other companies.