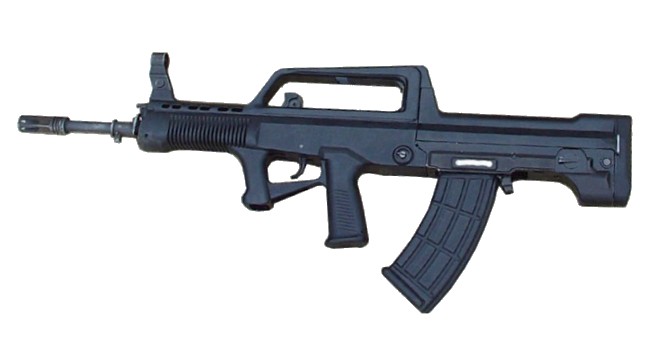 5.8x42mm QBZ-95 assault rifle, left side view

5.8x42mm QBZ-95 assault rifle, right side view; magazine is removed and a 4X telescope sight is installed

5.56x45mm QBZ-97 / Type 97 rifle; note different magazine port, designed to accept STANAG / M16-type magazines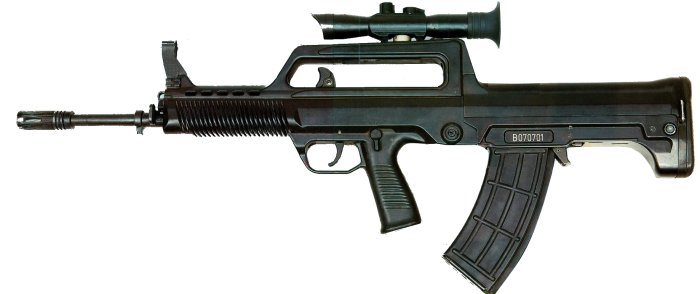 improved 5.8x42mm QBZ-95-1 (Type 95-1) assault rifle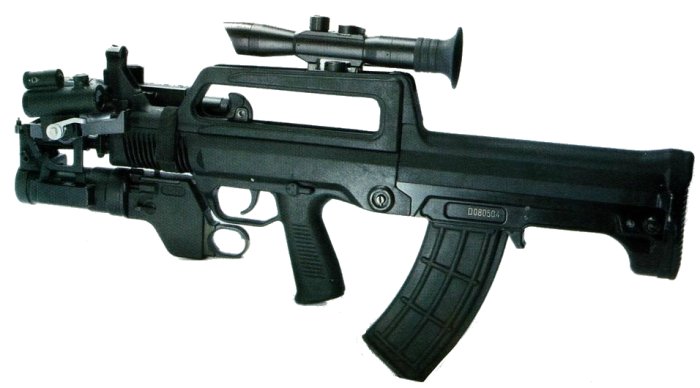 5.8x42mm QBZ-95-1 (Type 95-1) short assault rifle (carbine) with new 35-mm underbarrel grenade launcher
In the late 1980s Chinese designers developed a 5.8 x 42 cartridge, apparently designated DBP87, which is claimed to be superior to both the 5.56 mm NATO and the 5.54 mm Soviet. This cartridge develops a muzzle velocity of 930 meters per second from a standard barrel, with a bullet weighing 4.26 gram.
As soon as the ammunition was ready, the PLA began to develop an entirely new and much more modern family of small arms based on the same action. This family, known as QBZ-95 ('Qing Buqiang Zu' = Light Rifles family, 1995), was first displayed outside the PLA in 1997, when China took over Hong Kong; it was observed that the Chinese guards were armed with a new, modern looking bullpup rifle. In fact it is one of an entirely new family of weapons, all designed around the same action and bullpup layout, which include the assault rifle, a shorter carbine, a light support weapon (with a bipod, a heavier barrel and large capacity magazine), and a sniper rifle. While being quite similar inside, these guns have different body shapes and cannot be converted from one configuration to another. The QBZ-95 line of weapons is now spreading throughout the PLA, commencing with elite units.
The QBZ-95 assault rifle is a gas operated, magazine fed, automatic weapon with a bullpup layout. It has a short stroke gas piston and a rotating bolt. The charging handle is located at the top of the receiver, under the carrying handle. The housing is made from polymer, with an integral carrying handle, which holds the rear sight base, and has mounting points for optical or night vision scopes. The ejection port is made only at the right side of the weapon, so it cannot be fired from the left shoulder. Standard sights are of the open type, graduated from 100 to 500 meters. The front part of the barrel in the standard version is left unobstructed, so the QBZ-95 rifle can be used to launch rifle grenades. It also can be fitted with an underbarrel grenade launcher or with a knife bayonet. A compact carbine version, sometimes referred to as the CAR-95, cannot use either a grenade launcher or a bayonet, because of the much shortened barrel. Fire controls of QBZ-95 rifle consist of a trigger and a safety/selector switch, located (quite inconveniently) at the rear left of the receiver, behind the magazine housing. QBZ-95 can fire single shots or bursts.
The export version, QBZ-97, also known as Type 97 rifle, which is chambered for popular 5.56 x 45 NATO ammunition, is internally similar to QBZ-95, but has a different, much deeper magazine housing, which accepts a NATO-standard (M16-type) magazines. Type 97 rifle is also available as a civilian, semi-automatic only version, which is offered for export sales by NORINCO corporation.
During 2010-2011 PLA has adopted an improved version of the Type 95 assault rifle / QBZ-95 assault rifle, known as Type 95-1 / QBZ-95-1. This rifle includes several important improvements, based on the field experience with original rifles. Polymer stock is made stronger, barrel is improved to provide longer service life and better accuracy. Pistol grip and trigger guard are redesigned, and selector / safety switch is moved to much more comfortable position, right above the pistol grip. Other improvements include addition of the bolt hold-open device and gas regulator. Ejection port is moved forward slightly to ensure that spent cases are ejected forward and to the right, allowing for left-hand shooting if necessary. Type 95-1 / QBZ-95-1 rifles and carbines now can be equipped with new, 35-mm underbarrel grenade launcher, known as QLG-10A. Rifle grenades still can be fired from the muzzle using special blank ammunition.
Data for QBZ-95 (QBZ-97 in parenthesizes, where differs from QBZ-95)
Caliber: 5.8×42 mm (5.56×45 mm NATO)
Action: Gas operated, rotating bolt
Overall length: 760 mm
Barrel length: 520 mm
Weight: 3.4 kg unloaded
Rate of fire: ~ 650 rounds per minute
Magazine capacity: 30 rounds