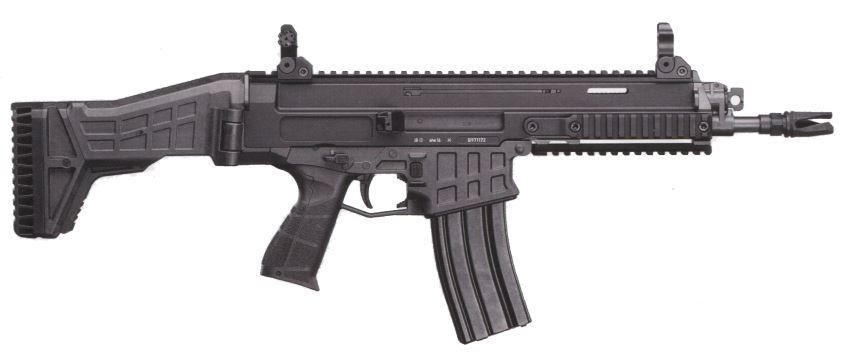 CZ-806 BREN-2 assault rifle
| | |
| --- | --- |
| Caliber | 5.56×45 NATO |
| Action | Gas operated |
| Length, mm | 798-750 / 570 (with 280mm barrel) |
| Barrellength, mm | 207, 280 or 356 mm |
| Weight, kg | 3.05 (with 280mm barrel) |
| Rate of fire, rounds/minute | 850 |
| Magazine capacity, rounds | 30 |
The CZ-806 BREN-2 assault rifle was first introduced in 2015 as an upgraded version of the CZ-805 BREN rifle of the same caliber, already in service with Czech army. The CZ-806 BREN-2 rifle offers a more lightweight design, lower manufacturing costs and slightly better ergonomics compared to its predecessor. CZ BREN 2 rifle was adopted as a atandard issue weapon for Czhech army. French GIGN anti-terrorism group recently purchased a number of CZ Bren 2 rifles chambered for 7.62×39 M43 ammunition.
The CZ-806 BREN-2 assault rifle is a gas operated, selective fire weapon chambered for 5.56mm (.223 Remington) cartridge.  It is also available chambered for 7.62×39 M43 ammunition. It utilises a short stroke gas piston and rotary bolt locking. Barrels are quick-detachable and are available in different lengths (with the possibility of different calibers as well).
The upper receiver is made from aluminum alloy, the lower receiver with integrated pistol grip and magazine housing is made from polymer. Sighting equipment and accessories are installed using integrated top Picatinny rail plus additional bolt-on rails on the forend. The side-folding shoulder stock is also made from polymer.
All manual controls are ambidextrous and the charging handle can be installed on either side of the gun. The safety/fire selector switch allows for only 2 modes of fire – single shot and fully automatic. Rifle is fed using STANAG-compatible detachable magazines in 5.56mm. When chambered for 7.62x39mm, it uses proprietary magazines made from translucent plastic. Optional acessories include various slings, knife bayonet, and 40mm underbarrel grenade launcher.