FN SCAR-L/Mk.16 Rifle prototype (1st Generation, late 2004). Left side view


FN SCAR-L/Mk.16 Rifle, 2nd Generation prototype, with FN EGLM 40 mm. Grenade Launcher attached

FN SCAR-H/Mk.17 Rifle  prototype in CQC (Close Quarter Combat, short barrel) configuration.
7.62×51 mm. NATO version

FN SCAR-L/Mk.16 Rifle partially disassembled; note additional quick-detachable barrel.
(Image: Christopher Rohling via Charles Cutshaw)

5.56mmNATO FN SCAR-L/Mk.16 Rifles currently in production, top to bottom in Long Barrel (LB), standard (Std) and Close Quarter Combat (CQC) configurations.
(Image: FNH USA)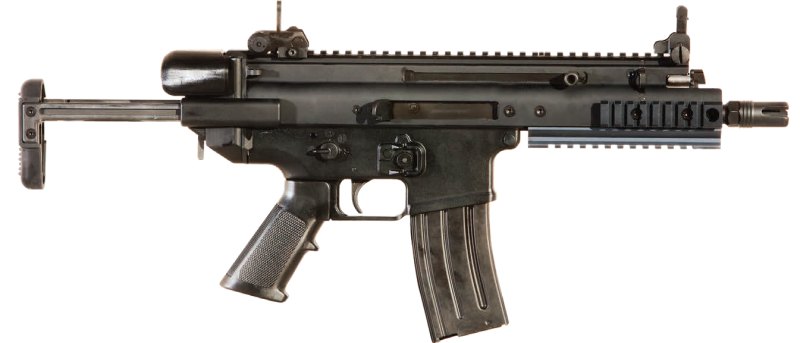 5.56 mm. FN SCAR-L PDW "Personal Defense Weapon"
| Specification | Value |
| --- | --- |
| Full text name | FN SCAR Mk 16 / Mk 17 - Special Forces Combat Assault Rifle |
| Caliber cartridge | 5.56x45 NATO, .223 Remington, 7.62x51mm NATO / .308 Winchester |
| Action type | select-fire |
| Trigger type | sa |
| Overall length, mm | 850 SCAR-L, 997 SCAR-H |
| Length, folded, mm | 620 SCAR-L, 770 SCAR-H |
| Barrel length, mm | 172 (SCAR-L PDW), 254 ( SCAR-L CQC), 355 (SCAR-L Std), 457 (SCAR-L LB); 330 (SCAR-H CQC), 406 (SCAR-H Std), 508 (SCAR-H LB) |
| Weight empty, kg | 3,5 SCAR-L, 3,86 SCAR-H |
| Cyclic rate of fire, rounds/min | 600 |
The FN SCAR, was produced in 2004 by the United States subsidiary of Fabrique Nationale Herstal (FN) of Belgium. It was the winner of a U.S. Military contract to provide a suitable rifle system specifically for the United States Special Forces.
The US Special Operations Command (US SOCOM) issued a solicitation for the procurement of SOF Combat Assault Rifles (SCAR)on October 15th, 2003. This solicitation requested a new combat rifle, specially tailored for the current and proposed future needs of the U.S. Special Forces. The changing nature of the Geo-political situation also lead to a change in needs and requirements for Special Forces operations, so also to the need for new and improved weapon systems.
At the time these needs were being met (unsucessfully) by the newest Heckler-Koch XM8 Assault Rifle. The key difference between the XM8 and SCAR was that, while the XM8 was a single-caliber weapon system, tailored for 5.56×45 mm. NATO ammunition, the SCAR would be available in various different calibers.
Initial SOF requirements included two basic versions of SCAR system – the SCAR Light (SCAR-L), available in 5.56 mm. NATO, and the SCAR Heavy (SCAR-H), initially available in significantly more powerful 7.62×51 NATO chambering, and should be easily adaptable in the field to other chamberings (however, this is still not the case). The key idea of SCAR rifle system is that it will provide the Special Forces operators with wide variety of options, from the short-barreled 5.56 mm. SCAR-L CQC variation,tailored for urban close combat, and up to the long range 7.62×51 SCAR-H Sniper variant.
Both SCAR-L and SCAR-H are available in three basic versions, Standard (S), Close Quarters Combat (CQC) and Long Barrel (LB). All these variants, regardless the caliber and exact configuration, provide the operator with the same control layout, same handling and maintenance procedures, and identical optional equipment, such as sights, scopes, and other current and expected future attachments. Since 2014, an even shorter version of the SCAR-L is available: the SCAR-L PDW – Personal Defense Weapon.
Late in 2004 US SOCOM announced the winner for the initial SCAR contracts as FN USA, a US-based subsidiary of the famous Belgian company Fabrique Nationale Herstal. Prototype rifles were manufactured by FN Manufacturing Inc, US-based subsidiary to the same. This company will also handle series production of the rifles.
Starting mid-2005, the first SCAR rifles went to end users in US Special Operation Forces. Since US SOCOM uses Navy-type "mark" designations, SCAR rifles were officially designated as 5.56 mm. Rifle Mark 16 (SCAR-L/Light) and 7.62 mm. Rifle Mark 17 (SCAR-H/Heavy). Despite the original plans to diversify the calibers, only 7.62 mm. SCAR-H rifles are in current service with US Special Forces. However, the SCAR system enjoys steady and growing sales worldwide, with numerous Special Forces buying both the 5.56mm and 7.62mm versions. Finally, it seems that the Belgian Army itself is adopting the 5.56 mm. SCAR-L as a general issue infantry rifle, to replace the aging 5.56 mm. FN FNC rifles which are no longer made by FN.
Technical Description:
All variants of FN SCAR rifles feature gas operated, short stroke piston action with rotating bolt locking. The bolt has seven radial locking lugs that lock directly into the barrel extension.
The receiver is made from two parts, upper and lower, connected with two cross-pins. The upper part is made from extruded aluminium and the lower part is made from polymer. SCAR-L and SCAR-H use similar upper receivers that differ only in the size of the ejection port. Other differentiations include caliber-specific bolts, barrels, and lower receivers with integral magazine housing. Parts commonality between SCAR-L and SCAR-H is an astonishing 90%. Barrels are quick-detachable, and held in the upper receiver with only two cross-bolts.
The barrel change procedure requires a minimum amount of tools, takes just a few minutes and there is no need to adjust the headspace after the change.
The trigger unit with ambidextrous safety-fire mode selectors allows for single shot and full automatic fire, with no provisions for limited-length burst mode. The charging handle is ambidextrous so could be easily installed on either side of the weapon. The upper receiver has respective cuts on both sides. The top of the upper receiver is covered by a full length integral Picatinny rail (MIL-STD 1913). Additional Picatinny rails are mounted on both sides and under the free-floating handguards.
A side-folding polymer buttstock is adjustable for length of pull, and is shaped to provide positive cheekrest with adjustable cheek support. SCAR rifles are fitted with removable, adjustable iron sights, folding diopter-type rear sight on the receiver rail, and folding front sight on the gas block. Any additional type of sighting equipment, necessary for set tasks, including telescopic and night sights, can be installed using MIL-STD 1913 compatible mounts.
The Mk.16 SCAR-L rifle uses any 5.56 mm. STANAG (M16-type) magazines, the Mk.17 SCAR-H uses proprietary 20-round magazines in 7.62×51 NATO.
Special thanks to Charles Cutshaw for invaluable information and images