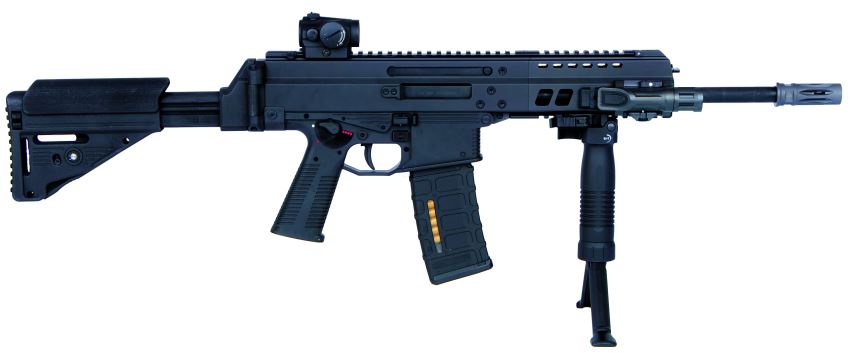 B+T APC-556

B+T APC-556


B+T APC-300
APC-556

APC-300

Caliber

5.56×45 / .223 Rem

Action

Gas operated, rotary bolt locking

Length, mm

841 / 612

797 / 564

Barrel length, mm

310

265

Weight, kg

3,57

3,42

Rate of fire, rounds/minute

600

600

Magazine capacity, rounds

30

30
B+T "Advanced Police Carbine, 5.56mm" or APC-556 in short is product of the well-known Swiss company B+T (formerly known as Brugger & Thomet). Like its name suggest, it is intended for use by police and security forces, although it is believed that military version is in the works.
The APC-300 is an offspring of the APC-556, chambered for now-popular .300 Whisper cartridge, which offers excellent tactical flexibility – in supersonic loadings with relatively light 8.4 gram (130 gr) bullets it is more or less on par with 7,62×39 weapons, and with heavy bullets (up to 14.3 gram / 220 gr) it is suitable for suppressed (silenced) applications, offering better ballistics, accuracy and striking power compared to suppressed submachine guns in pistol calibers. It must be noted that APC-300 is chambered and proofed for .300 Whisper (7,62×35) which is very similar to, but not completely interchangeable with .300 AAC Blackout. The .300 Whisper cartridge is CIP certified and thus can be deployed by NATO forces and many countries in Europe and elsewhere, which are recognizing CIP certification. On the other hand, .300 AAC is only SAAMI certified and thus is recognized mostly in USA. There also some subtle dimensional differences between those two cartridges. Having said that, it must be noted that B+T APC-300 weapon was tested with .300 AAC ammunition and was found safe to fire it, although manufacturer would certainly recommend against this practice. At this moment, a line of .300 Whisper ammunition for Law Enforcement use is produced in Europe by RUAG, with military-legal FMJ loadings in this caliber scheduled for near future. All this ammunition is 100% compatible with B+T APC-300 weapon. It is believed that some European special forces already use .300 Whisper ammunition for their police and counter-terror work.
B+T APC-556 and APC-300 are gas operated selectively-fired weapons of similar design. Both employ short-stroke gas piston located above the barrel, and multi-lug rotary bolt which locks into the barrel extension. Gas system is equipped with manual regulator to ensure reliable functioning with or without sound suppressor. Gas system of the APC-300 is designed to handle all types of .300 Whisper ammunition (subsonic or supersonic) without any manual adjustments. Built-in hydraulic buffer softens impact of the bolt group in its rearward position, decreasing felt recoil and increasing rapid-fire accuracy. Upper receiver is made from high strength aluminum alloy, while lower receiver (which comprises trigger housing integral with pistol grip and magazine well) is made from strong polymer. APC-556 is built for ambidextrous handling, with major controls (safety / fire selector levers, magazine release, bolt hold-open release buttons) being duplicated on both sides of the gun. Manual safety can be engaged with hammer cocked or lowered. Charging handle could be installed on either side of the gun, depending on the shooter's preferences. APC-556 and APC-300 rifles features integral Picatinny rails on receivers, and quad-rail aluminum alloy forend. Polymer shoulder stock is adjustable for length of pull and folds to the right to save space. Rifle is fed using STANAG (M16-compatible) magazines. As offered, it is equipped with folding backup iron sights, consisting of aperture rear sight and post-type front. Primary sighting equipment is some type of red dot sight, such as Aimpoint Micro T-1 (as supplied from factory) or any other similar sight selected by the user. Barrel is fitted with B+T muzzle brake and/or flash hider, with integral quick-mounting interface for excellent B+T ROTEX sound suppressor. The APC-300, when equipped with ROTEX-II suppressor and firing RUAG .300 Whisper subsonic ammunition is especially quiet, has only 122.1 dB of sound signature (as per MIL-STD 1474D), which is noticeably better than, say, 9x19mm integrally silenced HK MP9SD, which, according to same protocol, delivers 129.2 dB. Compared to pistol-caliber weapons B+T APC-300 also offers noticeably longer effective range (up to 150-200 meters with subsonic ammunition, 300+ meters with supersonic ammunition), better accuracy and better lethality.
Civilian-legal, semi-automatic only versions of both weapons are available as APC-223 (in 5.56mm / .223 Rem) and APC-300 Carbine (in .300 Whisper). APC-223 variant is also available with longer, 40 cm / 16" barrel.