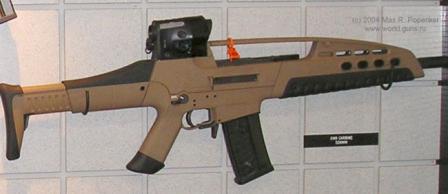 XM8 rifle in basic infantry configuration, as displayed in January, 2004, at the ShotShow-04 in USA


XM8 rifle in "automatic rifle" (light machine gun) configuration. Notelonger barrel and folded bipods under the forearm


XM8 rifle in "sharpshooter" (parasniper) configuration. While sightlooks similar to red-dot, mounted on other variants, it is of 3.5X magnification; spare magazine is clamped to the right side of the magazine inserted into the rifle.

XM8 rifle in Compact (SMG / PDW) configuration, with shortened barrel.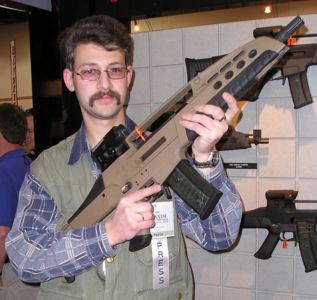 Author of this website is posing with XM8 at the ShotShow-2004, Las Vegas,USA.
Caliber: 5.56×45 mm NATO
Action: Gas operated, rotating bolt
Overall length: 838 mm in basic configuration, butt extended
Barrel length: 318 mm in basic configuration; also 229 mm in Compact and508 mm in Sharpshooter and SAW versions
Weight: 2.659 kg empty in basic configuration
Rate of fire: ~ 750 rounds per minute
Magazine capacity: 30 rounds (STANAG) or 100-rounds double drum inAutomatic Rifle/SAW role
The development of the XM8 Lightweight Assault Rifle was initiated by US Army in the 2002, when contract was issued to the Alliant Techsystems Co of USA to study possibilities of development of kinetic energy part of the XM29 OICW weapon into separate lightweight assault rifle, which could, in the case of success, replace the aging M16A2 rifles and M4A1 carbines in US military service. development of the XM8 was carried out by the Heckler-Koch USA, a subsidiary of famous German Heckler-Koch company. According to the plans, the XM8 should have enter full production circa 2005, if not earlier, several years before the XM29 OICW. The XM8 (M8 after its official adoption) was intended to be a standard next generation US forces assault rifle. It would fire all standard 5.56mm NATO ammunition, and, to further decrease the load on the future infantrymen
The XM8 was very similar to the "KE" (kinetic energy) part of the XM29 OICW system, being different mostly in having a telescoped plastic buttstock of adjustable length, and a detachable carrying handle with the sight rail.
Following several complains about non-competitive procurement of the XM8 system from Heckler-Koch USA, US Army first opened the bidding for contract to other companies, and then, in the July of 2005, suddenly suspended the entire OICW Increment 1 program to re-think the entire set of requirements for the possible replacement of current M16 rifles and M4 carbines. XM8 rifle program was never resumed and quietly died without much fanfare. It is interesting to note that few XM8 rifles were latter spotted in use by military SF elements outside of USA and Germany, most notably in Indonesia.
Technical description.
The XM8 is a derivative of the Heckler-Koch G36 assault rifle, and thus it is almost similar to that rifle in design and functioning.XM8 features a short piston stroke, gas operated action, with rotating bolt locking. Barrels are quick detachable, and planned to be available in several sizes, ranging from 229 mm (9.5 inch) for Compact/PDW version, 318mm (12.5 inch)in Basic version, and two 508mm (20in) barrels, one for Sharpshooter/Sniper version, and heavier one (along with bipod) for Squad Automatic Rifle role. The entire construction is modular and built around the polymer receiver with boltgroup; Magazine housings could be easily swapped for compatibility with various types of magazines; various buttstocks could be installed in a second  for various roles (standard buttstock is a telescoped 5 position adjustable one).Top of the receiver is fitted with proprietary sight rail, which can accept illuminated red-dot (collimator) sight, or any other type of sighting equipment.Detachable forend will be available in various sizes, and could be replaced withXM320 40mm grenade launcher (the improved HK AG36).
Ambidextrous fire controls are mounted on the trigger unit, integral with pistol grip and triggerguard, and in basic configuration are planned to deliver single shots and full auto fire.The G36-type ambidextrous charging handle is located at the top of the receiver, below the removable carrying handle.