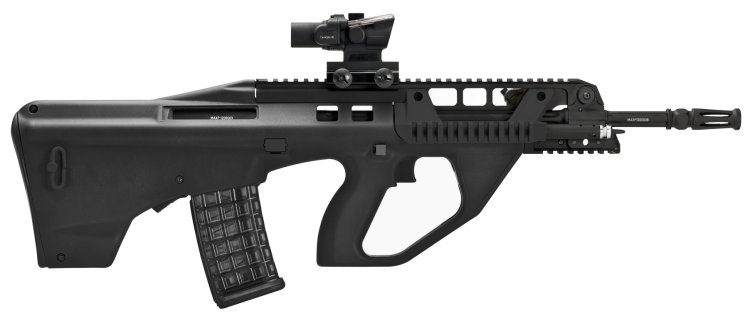 Thales EF88 / F90 assault rifle with 40cm barrel


Thales EF88 / F90 assault rifle with 50cm barrel and underbarrel grenade launcher
| Specification | Value |
| --- | --- |
| Full text name | Thales EF88 / F90 assault rifle |
| Caliber cartridge | 5.56x45 NATO, .223 Remington |
| Action type | select-fire |
| Trigger type | sa |
| Overall length, mm | 802/700 |
| Barrel length, mm | 508/407 |
| Weight empty, kg | 3,39/3,25 |
| Magazine capacity, rounds | 30 |
| Cyclic rate of fire, rounds/min | 850 |
F90 assault rifle, also known as EF88 (Enhanced F88) is an evolution of the F88 assault rifle, which was adopted by Australian and New Zealand armed forces during late 1980s. The original F88 rifle is a licensed copy of the Austrian Steyr AUG rifle, and it was produced in Australia at Australian Defense Industries factory in Lithgow. Today this same factory is operated by the Thales Australia, which developed EF88 / F90 rifle as a next weapon for Australian army, as well as for export.
While internally and externally the F90 is still close to Steyr AUG, it has many distinctive upgrades and changes, developed by Thales to fulfill current and near-future requirements of Australian armed forces. The Thales F90 rifles were first displayed to the public in mid-2012, and initial production is scheduled for 2013.
The resulting weapon is said to be much more reliable and comfortable than original F88 / Steyr AUG rifle. It is also noticeably lighter: standard F90 with 50 cm / 20" barrel is about 0.5 kg / 1.1 lbs lighter than standard F88 rifle; with new 40mm underbarrel grenade launcher installed, resulting weapon is more than 1.6 kg / 3.5 lbs lighter than F88 rifle equipped with M203PI grenade launcher.
F90 / EF88 assault rifle is gas operated, selectively fired weapon of bullpup layout. It uses polymer housing with improved shape of buttstock (including the new buttpad and added comb for better cheek-weld). Gas operated, short-stroke, rotary bolt action is similar to that of original Steyr AUG, but the gas block is modified. Aluminum alloy receiver is also modified to improve reliability and reduce weight. Ejection ports and ejection covers also modified to ensure reliable extraction under all conditions.
Unlike all previous versions of the Steyr AUG, the F90 has non-removable barrels, cold-hammer forged and externally fluted. Standard F90 rifles are offered with 50 cm / 20" barrels; other versions include carbines with 40 cm / 16" barrel and CQB variants with 36 cm / 14.1" barrel. Other clearly visible changes include extended Mil-Std (Picatinny) rail at the top; bottom rail has replaced original folding forward grip of the Steyr AUG / F88. Third accessory rail is mounted on the right side of the weapon. Trigger guard is redesigned to accept new, specially designed 40mm Underbarrel Grenade Launcher. This lightweight add-on weapon can be quickly attached directly to the bottom rail of the host rifle, and then easily removed when not required. Less visible changes include addition of the bolt hold-open device to facilitate faster reloads. F90 will feed from the same proprietary translucent magazines, made from polymer as the original Steyr AUG / F88 rifles, although optional STANAG-compatible version is said to be available in the near future. Basic sighting is provided by Trijicon ACOG optical sights with 1.5X or 3.5X magnification, although sights can be easily changed, thanks to MilStd mounts.