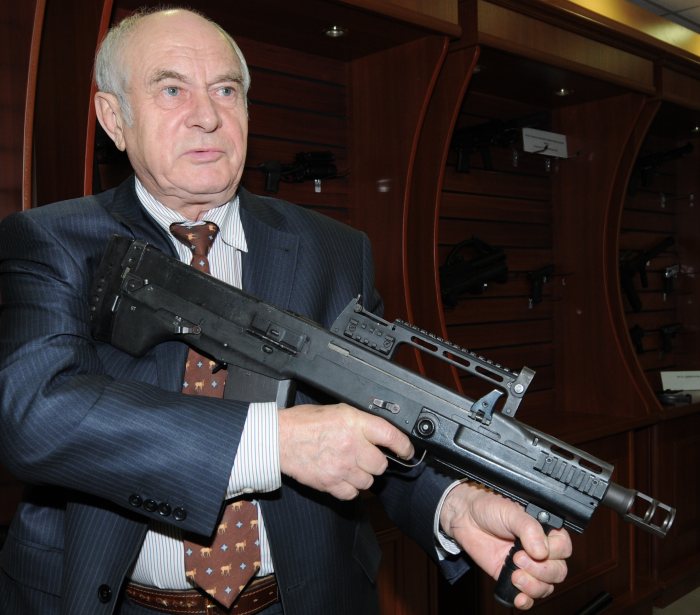 ASh-12.7 assault rifle is being demonstrated by KBP's chief small arms designer, V.Zelenko
photo: "National Defense" magazine

ASh-12.7 assault rifle. Basic configuration with 20-round magazine
Photo: KBP Tula


ASh-12.7 assault rifle. Configuration with 10-round magazine and "tactical" sound suppressor / silencer
Photo: KBP Tula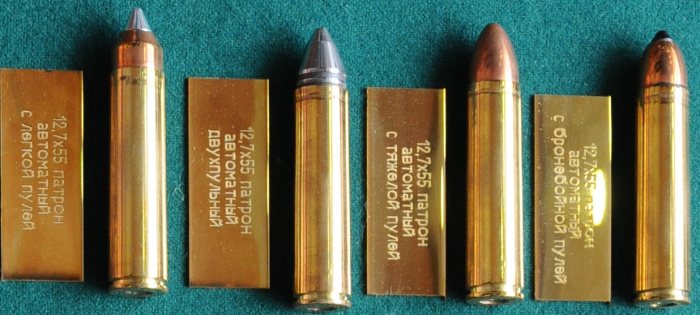 12.7×55 ammunition for ASh-12.7 assault rifle, L-R: with light bullet, with duplex load, with heavy bullet, with AP bullet
photo: "National Defense" magazine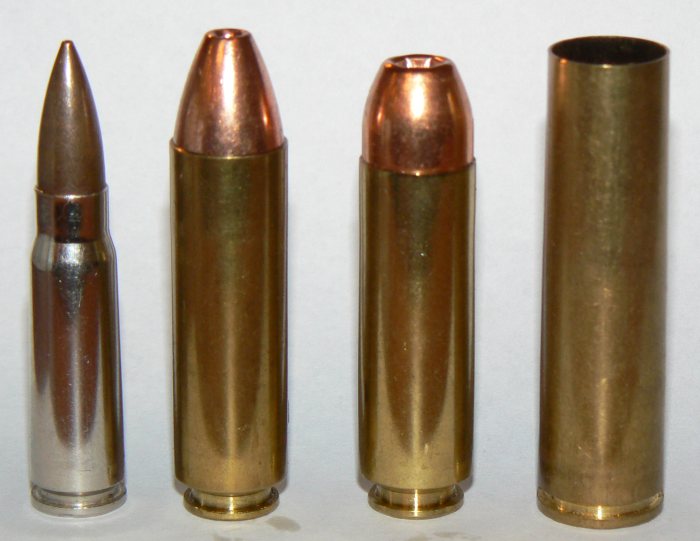 12.7×55 case compared to .499 LWR, .50 Beowulf and 7,62×39 for scale
| | |
| --- | --- |
| Caliber | 12.7х55 |
| Action | Short recoil |
| Length, mm | 675 |
| Barrel length, mm | No data |
| Weight, kg | 5.2 (less ammunition and sound suppressor) |
| Rate of fire, rounds/minute | 500-750 |
| Magazine capacity, rounds | 10 and 20 |
ASh-12 assault rifle (Штурмовой автомат АШ-12 in Russian) was designed by Tsentral Design bureau for Sporting and Hunting arms (ЦКИБ СОО, a subsidiary of the Tula Equipment Design Bureau, or КПБ). It was developed on request from Russian Federal Security Service (FSB) as an ultimate close combat "man-stopper" weapon for their elite counter-terrorist units. Adopted in 2011 along with specially designed ammunition, ASh-12 is employed as CQB weapon against most dangerous armed criminals or terrorists who has to be stopped, literally, with the first shot.
To achieve maximum stopping power at short range, ASh-12 is built around a specialized family of the CQB ammunition, which includes several loads. The case is rimless and 55mm long, and is the same as used in Sts-130 subsonic sniper ammunition used in VSSK "Vychlop" suppressed sniper rifle. List of loads for ASh-12 includes Armor Piercing projectiles with steel core (bullet weight about 18 gram), heavy subsonic projectiles with lead core (bullet weight around 33 gram), light and fast projectiles with aluminum core (bullet weight about 7 gram), and a duplex load with two bullets each weighting about 17 gram. Depending on the bullet type and target (protected or unprotected) maximum effective range varies between 100 and 300 meters.
The ASh-12 assault rifle is unusual in that it uses short recoil operated action with rotary bolt loking. It is of bullpup layout, with steel upper receiver and polymer lower receiver. Ejection is to the right only. Manual safety is ambidextrous and is located above the trigger guard. Ambidextrous fie selector is located at the rear of the magazine housing and offers single shots and full automatic fire modes. Ammunition is fed from proprietary detachable box magazines holding 10 or 20 rounds. Rifle can be equipped with wide variety of sights and accessories using integrated Picatinny rails. It also comes with compact "tactical" suppressor (which is to be used with subsonic ammunition) and with larger and highly effective sound suppressor optimized for heavy subsonic loads.