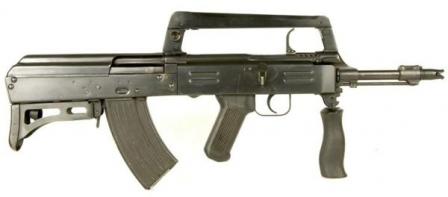 Caliber: 7.62×39 mm
Action: Gas operated, rotating bolt
Overall length: 667 mm
Barrel length: 438 mm
Weight: 3.59 kg empty
Magazine capacity: 30 rounds (AK-47 type)
Type 86s rifle was produced by Chinese state arms factories as a commercial, export-only item, and sold worldwide through Chinese NORINCO corporation during late 1980s and 1990s. It is not known if this weapon was originally made for PLA (Chinese People'sLiberation army), but present author suspects that it was intended for export only from the start. The simple reason behind that suspicion is that by the time of appearance of this weapon (late 1980s), PLA has standardized on Type 81 assault rifle as its primary infantry arm. Type 56 assault rifle (Kalashnikov AKM clone), which served as a basis for Type 86, was declared obsolete in PLA, and mostly sold for export. It is possible that Type 86 rifle was offered in selective-fired version for various government buyers, but I have no proof for that. So far all specimens of this weapon were encountered in civilian semi-automatic only configuration. Type 86s semiautomatic rifle was sold worldwide, and at least some found its way into USA before president Clinton vetoed importation of Chinese small arms into USA in 1994.
Type 86s rifle is another adaptation of previously existing weapon of traditional layout into more compact bullpup layout. It was probably inspired by Finnish-made Valmet M82 weapon, which appeared about 4 years before Chinese version of the same basic Kalashnikov-type action. In the case of Type 86s, the basic receiver with all internals was"borrowed" from late production Type 56 assaultrifle with stamped receiver and semi-automatic only "civilian"trigger. All furniture, along with characteristic safety lever and cocking handle was discarded. A new cocking handle was attached to the top of gas piston rod, under the integral carrying handle, and a new manual safety was installed on the right side of the weapon, just above the trigger guard. A short metallic buttplate was pinned to the bottom of the receiver at its rear end. Couple of features were copied from other designs; those included SteyrAUG-style folding front grip and FAMAS-style integral carrying handle with built-in open sights and top-mounted cocking handle. Type 86s rifle uses standard Type 56 / KalashnikovAKM magazines for 7,62×39 ammunition.