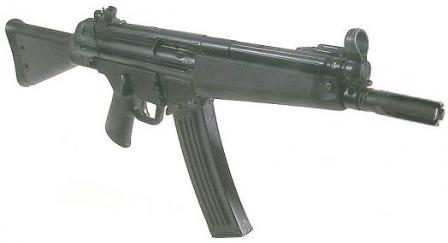 HK53A2

HK53A3 with retractable buttstock
| Specification | Value |
| --- | --- |
| Full text name | Heckler&Koch HK 33 и HK 53 assault rifle |
| Caliber cartridge | 5.56x45 NATO, .223 Remington |
| Action type | select-fire |
| Trigger type | sa |
| Overall length, mm | 919 - HK33, 865 - HK33K, 780 - HK53 |
| Length, folded, mm | 740 - HK33A3, 670 - HK33KA3, 590 - HK53A3 |
| Barrel length, mm | 390 - HK33, 322 - HK33K, 211 - HK53 |
| Weight empty, kg | 3,9 - HK33, 3,65 - HK33K, 3,0 - HK53 |
| Magazine capacity, rounds | 30 |
| Cyclic rate of fire, rounds/min | 750 |
HK33 had been developed by the German company Heckler und Koch in mid- to late 1960s as a scaled-down version of their G3 battle rifle, and entered production in 1968. HK33 was developed for then-new cartridge, 5.56x45mm (.223 Remington), and while it had not been adopted by German military, it saw significant use by some West Germany police and security units, and also widely exported, and used by Malaysia, Chile and Thailand armed forces. Since 1999, HK33 also manufactured under license in Turkey. HK33 is still in production in Germany by HK, and also served as a platform for further developments, such as G-41 assault rifle and HK53 compact assault rifle (known by the HK as submachine gun).
HK53 is a ultra-compact version of HK33, which advertised by HK as "submachine gun" and, by common sense, falls in the same category as soviet AKS-74U or Colt "Commando". All these guns can be classified as "compact (or short) assault rifles" by the fact, that they are used the intermediate rifle round. Hk53 was developed in mid-1970s and is still in production and offered for export.
HK33 is a delayed blowback operated, selective fire rifle, that utilized two pieces bolt with two rollers that used to delay bolt blowback. The receiver is made from stamped steel, and HK33 is available with either a polymer fixed buttstock (HK33A2) or retractable metallic buttstock (HK33A3). Carbine version of the HK33 also available and featured shorter barrels and similar fixed or retractable stocks (HK33KA2 and HK33KA3, respectively).
All HK33 variants available with different trigger units, with or without 3-rounds burst mode. HK's proprietary claw-type mounts allow telescopic sights to be mounted on any version of HK33. Full-length HK33s can be equipped with bayonet or underbarrel 40 mm grenade launchers, HK79A1, also made by Heckler & Koch. Full-length HK33 rifles also can launch rifle grenades from combined muzzle compensator/flash hider. All HK33 and HK53 guns are equipped with drum-type rear sights.
HK53 is internally similar to the HK33 but cannot fire rifle grenades nor mount underbarrel 40mm grenade launcher.HK53 also cannot be equipped with bayonet, and featured long, four-prong flash hider.
Both HK33 and HK53 can use 25, 30 and 40 round box magazines, but latter are out of production by HK for some time.