VHS D2 Assault Rifle with integrated 1.5X telescope sight


VHS D2 assault rifle with40mm grenade launcher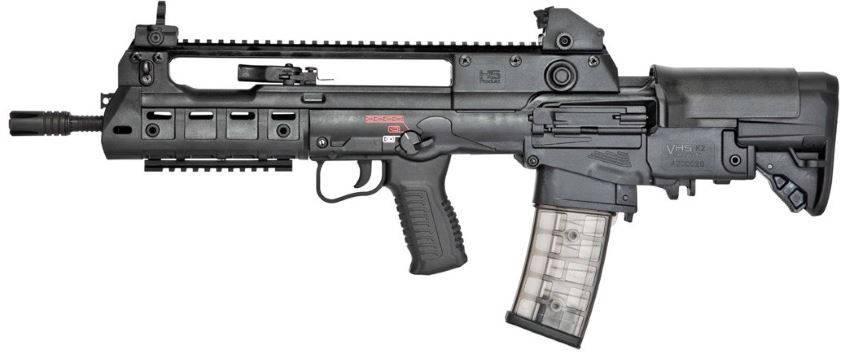 VHS K2 compact Assault Rifle with basic iron sights and top mounted Picatinny rail
VHS D2

VHS K2

Caliber
Action

Gas operated

Length, mm

800-850

710-760

Barrel length, mm

500

410

Weight, kg

3,9 (4.3 with integrated optics)

3,75

Rate of fire, rounds/minute

850

830

Magazine capacity, rounds

30
VHS-2 is a new family of assault rifles, designed and produced in Croatia by the HS Products company. This range includes two basic versions of the infantry rifle – 'standard size' VHS D2 rifles and 'compact' VHS K2 rifles. Each version can be produced with basic iron sights, or with built-in (integrated) 1.5X telescopic sight.
VHS-2 rifles were first introduced to public in 2013, and are based on the 1st generation of VHS rifles now in service with Croatian military. Despite external similarities, VHS-2 rifles include numerous modifications to warrant a separate description. The two most important upgrades of the VHS-2 over its predecessor are completely ambidextrous handling (including ejection windows on both sides) and buttstock with adjustable length of pull. There are other minor adjustments.
Technical Details:
The basic VHS-2 assault rifle is a gas operated, select-fire weapon with rotary bolt locking and a manual gas regulator. It features dual ejection windows on both sides of the receiver, so the user can select which side to eject the spent cartridges. However, this  operation does require partial disassembly of the gun.
All controls (safety / fire selector, charging handle, bolt hold-open device release lever, magazine catch) are ambidextrous as well. The polymer receiver is equipped with an adjustable buttpad that allows for change of length of pull up to 5 cm (2"). This rifle is available either with an integrated MIL-STD-1913 (Picatinny) rail above the receiver and back-up iron sight on removable bases, or with integrated 1.5X optical telescopic sight. An indigenous 40mm grenade launcher can be mounted below the barrel. These rifles are compatible with most types of STANAG (M16-type) magazines. Magazine housing is provided with ambidextrous paddle-type magazine release located just behind the magazine.