AK-Alfa assault rifle, left side


AK-Alfa assault rifle, right side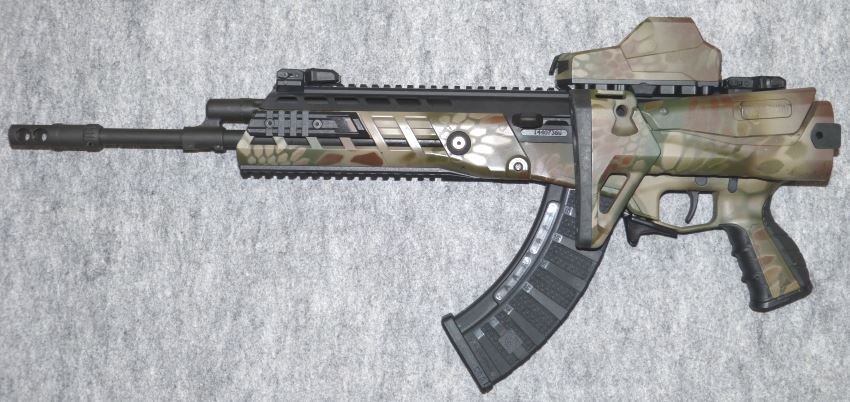 AK-Alfa assault rifle, left side. Note that when the charging handle is set on the left, the folded stock blocks it, preventing rifle to be charged or fired repeatedly.


AK-Alfa assault rifle, version with black furniture, KeyMod forend and shortened barrel
| Specification | Value |
| --- | --- |
| Full text name | AK-Alfa assault rifle (CAA / Kalashnikov-Israel Kalashnikov-USA) |
| Caliber cartridge | 5.56x45 NATO, .223 Remington, 7.62x39mm M43 Soviet Intermediate Cartridge |
| Action type | select-fire |
| Trigger type | sa |
| Overall length, mm | 950 (for 415 mm barrel) |
| Length, folded, mm | 685 (for 415 mm barrel) |
| Barrel length, mm | 415, 314 |
| Weight empty, kg | 3,5 (for 415 mm barrel) |
| Magazine capacity, rounds | 30 |
| Cyclic rate of fire, rounds/min | 600-650 |
The AK Alfa rifle is an interesting attempt to upgrade the ergonomics and handling characteristics of the famous Kalashnikov AK-type weapons, while maintaining their remarkable reliability and simplicity of use.
It appears that the AK Alfa project was conducted by a group of Israeli engineers from the Command Arms & Accessories (CAA) Company, with certain advice "from outside". AK Alfa prototype rifles were first shown in 2016 during international exhibitions (ShotShow in USA and Eurosatory in France). This was under the brands of 'Kalashnikov USA' and 'Kalashnikov Israel'. In the American market, the rifle is known as 'AK Alpha'.
It must be noted that official representatives of the Russian Kalashnikov Concern provided no comments about this weapon. However it  should also be noted that the core components of the current AK Alfa prototypes are Russian-made Saiga carbines, produced by the Kalashnikov Concern.
Technical details:
As noted above, the core of the current AK Alfa rifles are Russian-made Saiga semi-automatic carbines in 5.56mm (.223) and 7.62mm (semi-automatic or converted to select-fire by CAA). These rifles use complete (but modified) Saiga stamped steel receivers. also bolt groups, barrels, gas tubes and certain trigger parts. The stamped steel receiver is enclosed in a polymer shell that forms an integral pistol grip, trigger guard and magazine well. The standard AK-style top cover is replaced with noticeably longer aluminum alloy top cover with integrated Picatinny rail. The top cover is attached to the forend of the receiver by dovetail and to the rear of the receiver by a removable cross-pin. To remove the new top cover, one first has to remove the lower forend (which is also attached to the receiver by a cross-pin), then push the retaining pin and slide the cover forward and off the gun.
The Saiga bolt carrier is modified by milling off an integral bolt handle and replacing it with a removable bolt handle that can be installed on either side of the gun. A standard AK-type safety / fire mode selector is replaced with the more comfortable ambidextrous safety / fire selector. These rifles are planned to be made in semi-auto only (civilian) and select-fire (Military/LE) versions. Side folding, adjustable shoulder stock is made from polymer and folds to the left. AK Alfa rifles can use any AK-compatible magazines in 7.62×39, and Galil-compatible magazines in 5.56/.223.