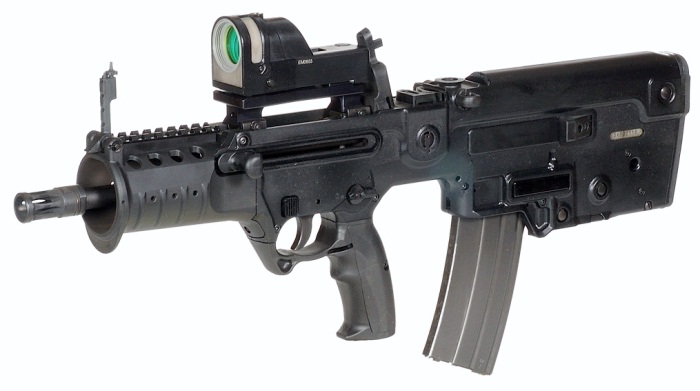 5.56 mm IWI X95 assault rifle.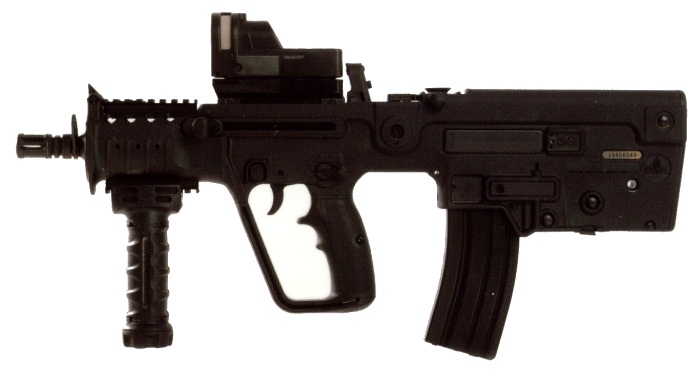 5.56 mm IWI X95 assault carbine.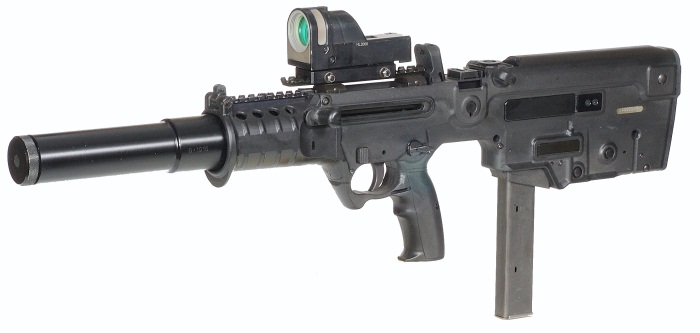 9 mm X95 submachine gun with optional sound suppressor (silencer).
| | | | |
| --- | --- | --- | --- |
| | IWI X95 L rifle | IWI X95 carbine | IWI X95 SMG |
| Caliber | 5.56×45 NATO | 5.56×45 NATO | 9×19 Luger / Para |
| Length | 640 mm | 580 mm | 580 mm |
| Barrel length | 380 mm | 330 mm | 330 mm |
| Weight | 3.05 kg | 2.98 kg | 2.98 kg |
| Rate of fire | 700 ~ 1000 RPM | 700 ~ 1000 RPM | 750 ~ 1200 RPM |
| Magazine | 30 rounds | 30 rounds | 32 rounds |
The X95 is a modular weapon, developed by Israeli Weapon Industries (IWI) Ltd primary for use by Special Forces personnel. IWI X95 is based on the already battle-proven Tavor TAR-21 assault rifle, with modifications and upgrades suggested by Israeli Special Forces. Single X95 weapon can be easily configured as an 'all around' assault rifle, compact CQB or PDW carbine, or 9 mm submachine gun, which can be further silenced for covert operations.
IWI X95 assault rifle is of bullpup layout, with stock made of modern impact-resistant polymer. It features quick detachable barrel system, which allows changing barrel lengths and calibers depending on the upcoming mission profile. 5.56 mm version employs conventional gas operated action with rotary bolt locking, based on that of the Tavor TAR-21 assault rifle. 9 mm SMG version features simple blowback system. Both versions fire from closed bolt, utilizing same hammer fired trigger system, which permits for single shots and full automatic fire. Both versions also can be configured for right- or left-hand ejection of the spent cartridge cases, depending on the preferences of the operator. Other configurable options include two versions of the pistol grip – one with enlarged "full-hand" trigger guard and another with small "conventional" trigger guard. Ambidextrous controls include Safety/Fire selector switches, located above the pistol grip, and additional magazine release buttons, located above the trigger guard. Charging handle also can be installed on either side of the gun. Feed is from detachable box magazines; 5,56 mm version uses STANAG (M16-compatible) magazines, while 9 mm version uses UZI magazines, which requires installation of the 9 mm magazine adapter into the 5.56 mm magazine well. Sighting means are provided by an array of day- and night optics, which can be easily installed onto Picatinny rail which runs atop of the weapon. Most typical primary sighting equipment for X95 weapon is some type of Red Dot sight. Folding iron sights are provided as a back-up. Other accessories may include quick-detachable sound suppressors (silencers) for both calibers (5,56 mm and 9 mm), rifle slings etc.