Original version of the HK 416 carbine, dating back to 2005


Current version of the Heckler-Koch HK-416A5 carbine / assault rifle

Heckler-Koch HK-416A5 assault rifle with HK GLM underbarrel grenade launcher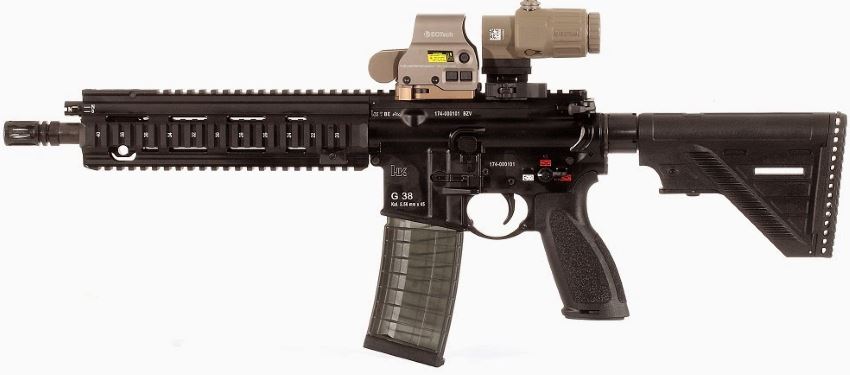 Heckler-Koch HK-416A5, version adopted by German KSK Special Forces unit as G38
| Specification | Value |
| --- | --- |
| Full text name | Heckler-Koch HK-416 carbine / G95A1 assault rifle (Germany) |
| Caliber cartridge | 5.56x45 NATO, .223 Remington |
| Action type | select-fire |
| Trigger type | sa |
| Overall length, mm | 886 w 14.5" barrel, 785 w 10.5" barrel |
| Length, folded, mm | 787 w 14.5" barrel, 686 w 10.5" barrel |
| Barrel length, mm | 10.5"/267 mm; 14.5"/368 mm; 16.5"/419 mm and 20"/508 mm |
| Weight empty, kg | 3.31 kg w. 10.5" barrel, 3.5 kg w 14.5" barrel |
| Magazine capacity, rounds | 30 |
| Cyclic rate of fire, rounds/min | 700-900 |
Following the revision of the OICW Block 1/XM8 program, the Heckler & Koch company decided to enter the US military and law enforcement markets with the alternative design. Based on the experience, gained during successful upgrade program of the British SA80 / L85A1 program, HK decided to cure the existing M16 rifles and  M4 carbines from most of their problems, inherent to this 40-years old design.The key improvements, made by HK, are their patented short-stroke gas piston system, borrowed from HK G36 rifle. This system replaced the direct gas system of standard M16 rifle, so no powder residue will remain in the receiver even after long shooting sessions. The "new" gas system also is self-regulating and will work reliably with any barrel length. Other improvements include new buffer assembly, improved bolt, and a cold hammer forged barrel, as well as free-floating hand guard with integral Picatinny-type rails. Originally developed as a "drop-in" upper receiver assembly for any standard M16/M4 type lower receiver, it was initially designated as HKM4, but following law suit from Colt it was renamed to HK-416. Today HK 416 assault rifle is available as a complete weapon system in several versions.
During the last decade the HK 416 family of rifles gained some momentum and appears to be heading for even more success. Adopted by a number of Special Forces and by Norwegian army, it is also in use by US Marine Corps as M27 IAR and by elite German KSK unit as G38. In 2017 HK 416F won French trials for a new general issue rifle that should eventually replace aged and worn-off FAMAS rifles.
In late 2022 the German Ministry of Defense officially announced that the HK 416A8 assault rifle has been adopted as the new standard issue rifle for the Bundeswehr, under the official designation of G95A1 (standard rifle) and G95KA1 (short rifle). It is mostly similar to the earlier version of the HK 416, but is fitted with a new shoulder stock with cheek riser, new forend, new pistol grip and the new 90-degree safety / fire selector lever.
The HK-416 assault rifle is a gas operated, selective fired weapon of modular design. It uses short-stroke gas piston that operates the 7-lug rotating bolt. Receiver is made from high grade aluminium alloy. Combination-type safety / fire selector allows for single shots and full automatic mode. HK-416 retains all M16-style controls, including last round bolt hold-open device, rear-based charging handle and magazine release button on the right side of the magazine well. HK416 is fitted with four Picatinny rails as standard, and may accept any type of sighting devices on STANAG-1913 compliant mounts. It also can accept modified HK AG36/AG-C 40 mm. grenade launcher, which is clamped directly to bottom rail. Buttstock is of typical M4 design, multi-position telescoped.