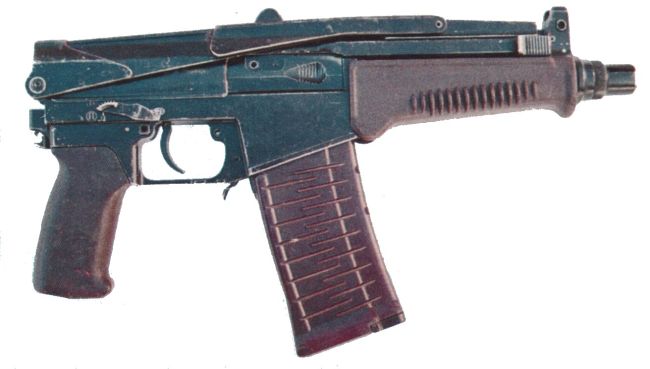 SR-3 Vikhr compact assault rifle, shoulder stock folded.

SR-3 Vikhr compact assault rifle, shoulder stock extended.

SR-3M Vikhr compact assault rifle, early model, with 'old pattern' 20-round magazine; shoulder stock and forward grip extended.

SR-3M Vikhr compact assault rifle, current issue model, with 'old pattern' 20-round magazine, quick-mounted silencer and telescope sight.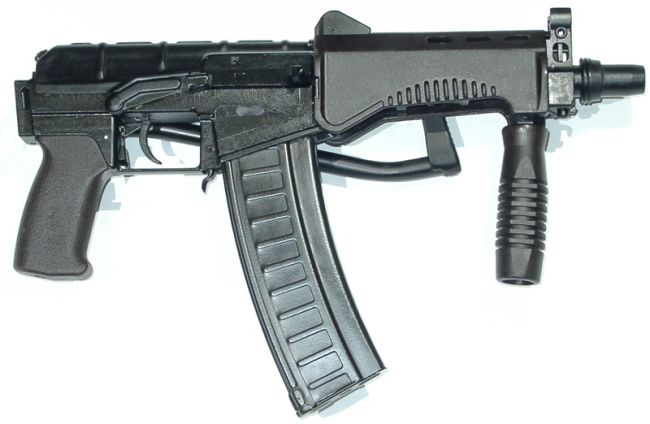 SR-3M Vikhr compact assault rifle, current issue model, with 'new pattern' 30-round magazine.
SR-3
SR-3M
Caliber:
9×39 SP-5, SP-6
Action
Gas operated, rotating bolt
Overall length (butt folded / open)
396 / 640 mm
410 / 675 mm
700 / 970 mm with silencer
Barrel length
156 mm
156 mm
Weight:
2.0 kg less magazine
2.2 kg less magazine
3.2 kg with empty 30-rd magazine and silencer
Rate of fire
900 rounds per minute
900 rounds per minute
Magazine capacity
10 or 20 rounds
10, 20 or 30 rounds
The SR-3 "Vikhr" ("Whirlwind") compact assault rifle was developed in TSNIITOCHMASH by A. Borisov and V. Levchenko during early 1990s. Initially known as "MA" (Malogabaritnyj Avtomat = small-size assault rifle), it was based on the silenced 9 mm AS "Val" assault rifle, and intended for concealed carry by special VIP protection teams and State security operatives. The SR-3 is widely used by various FSO (Federal Protection Service, a VIP protection organization, which guards the President and the government of the Russian Federation) and FSB (Federal Security Service) operatives, elite Russian counter-terror teams and other specialized users in the MVD and Russian police. In terms of size and weight, the SR-3 is similar to many submachine guns, but it fires much more powerful 9x39mm ammunition, available in armor piercing (SP-6) and ball (SP-5) loadings. Thus, SR-3 is considered to be an assault rifle rather than a submachine gun.
Following the demand from users, the TSNIITOCHMASH recently developed an improved version of the SR-3, with intent to produce a more versatile weapon for Law Enforcement use. The new SR-3M (Modified) compact assault rifle features more convenient fire controls and charging handle, integral forward grip (folding), and, most important, specially developed quick-detachable silencer (sound moderator) and a standard side rail for mounting day or night optics on the left side of the receiver. Another useful accessory for the SR-3M is a new magazine with enlarged capacity (30 rounds), which also provides more reliable feeding during automatic fire.
The SR-3 features the receiver, machined from a bar of steel, and gas-operated action with long stroke piston, plus the same rotating bolt group from the AS. However, the SR-3 has no integral silencer, nor provision to mount one, and thus is much shorter than the AS. Other changes included a more compact, top-folding butt and simplified flip-up rear sight. The redesigned charging handle, made in the form of dual sliders above the forearm, must be grasped by thumb and index finger and then retracted to load the weapon. The trigger unit is generally the same as in the AS, but the AK-type safety is replaced by ambidextrous lever above the pistol grip. The fire mode selector is of cross-bolt, push button type and located behind the trigger, inside the trigger guard. SR-3 uses same polymer magazines for 10 or 20 rounds, as the parent AS and VSS rifles. Open sights consist of a protected front post nd a flip-up rear sight with U-notch, with settings for 100 and 200 meters range.
The SR-3M differs by having AS-style controls (safety lever, semi / auto selector switch inside the trigger guard, charging handle), improved polymer furniture, AS-style side-folding shoulder stock, quick-detach mount for proprietary silencer at the muzzle, and a side-rail for mounting of various optical equipment (Red-dot or telescope day sights, night sights).