Heckler – Koch HK433 assault rifle in desert colors and with M16-style magazine release


Heckler – Koch HK433 assault rifle in black, with short barrel and G36-style paddle magazine release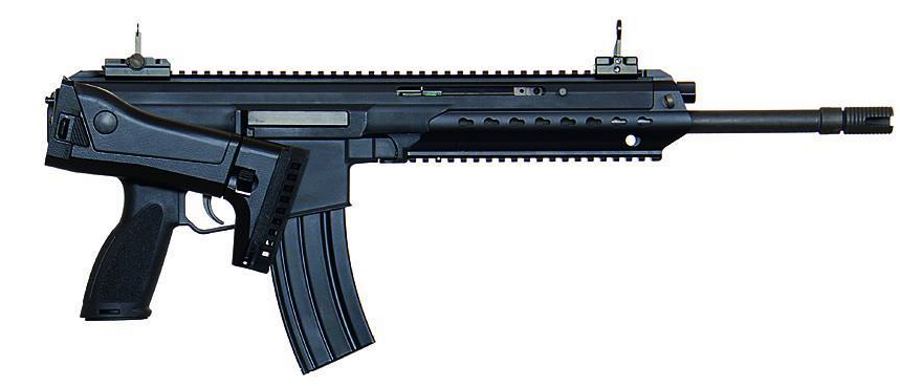 Heckler – Koch HK433 assault rifle with shoulder stock folded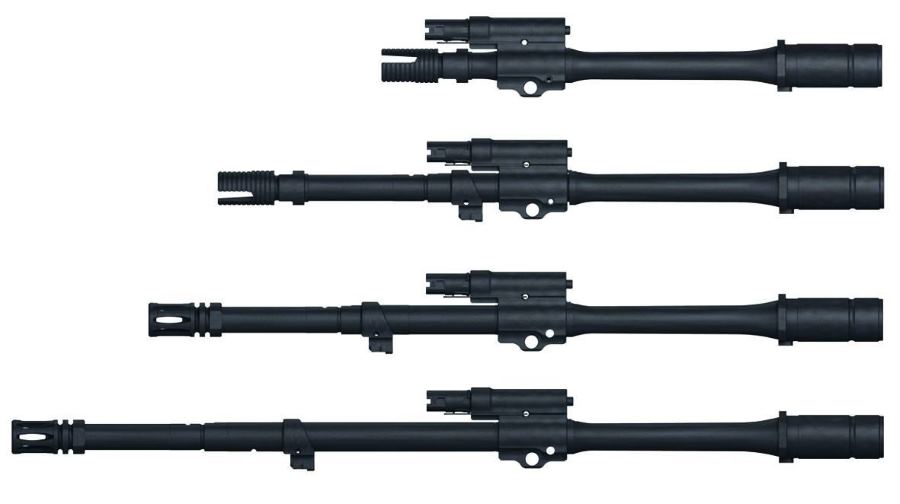 variety of interchangeable barrels for Heckler – Koch HK433 rifle
| Specification | Value |
| --- | --- |
| Full text name | Heckler & Koch HK433 modular assault rifle |
| Caliber cartridge | 5.56x45 NATO, .223 Remington |
| Action type | select-fire |
| Trigger type | sa |
| Overall length, mm | 989 (w 421mm barrel) |
| Length, folded, mm | 705 (w 421mm barrel) |
| Barrel length, mm | 280, 318, 368, 421, 480, 503 |
| Weight empty, kg | 3.5 (w 421mm barrel) |
| Magazine capacity, rounds | 30 |
| Cyclic rate of fire, rounds/min | 700 |
The Heckler & Koch HK433 assault rifle is the most recent design from the famous German gun manufacturer. First presented in 2017, this rifle is primarily intended to replace the HK G36 assault rifles in service with the Bundeswehr (German army). It may have a significant export potential as well, especially if adopted in the army of its native country.
It is available commercially, but the replacement for the G36 is not expected to be announced until 2020. The HK433 is competing in German army trials against several other rifles such as the Steyr-Rheinmetall RS-556.
Heckler & Koch HK433 assault rifle is a modular weapon, initially available in 5.56×45 NATO chambering, but it can be adopted to other popular calibers such as 7.62×39 (HK 123) and 7.62×51 (HK231).
Technical Description:
Heckler & Koch HK433 assault rifle is a gas operated, selective fire weapon. It features short stroke gas piston, located above the barrel, with manual gas regulator. Barrels are easily removable after partial disassembly, and are offered in several lengths, ranging from 28 to 50 cm (11 to 20 inches). Barrel locking is achieved by a G36-style rotating bolt that locks directly into the barrel extension, and the bolt carrier group is also based on HK G36, with several improvements in detail.
Upper receiver is made from aluminum alloy; lower receiver, which consists of a trigger housing, magazine housing and a pistol grip, is made from polymer. The rifle is equipped with ambidextrous 3-position safety / selector lever which permits for single shots and full automatic fire.
Lower receiver is available in two alternate versions, with M16-style controls (side-mounted ambidextrous magazine release buttons) or G36-style controls (paddle-type magazine release at the bottom).
An ambidextrous bolt hold-open lever is present in either configuration. The folding charging handle is non reciprocating, but can be locked in to be used as a bolt closure assist, and can be mounted on either side of the gun, depending on users' choice. The weapon is fed using STANAG-compatible (M16 tye) magazines.
Adjustable shoulder stock is made from polymer, and folds to the right. Sighting equipment can be installed onto an integrated Picatinny rail that runs the entire length of the monolithic upper receiver.
The slim forend has KeyMod slots on its sides and a bottom rail, which can host 40m grenade launcher or a variety of tactical accessories like lights, lasers and foregrips. The HK433 rifle features integral, battery-free electronic shot counter than can transmit info (useful for maintenance) using RFID technology.