Top to bottom: SRM Model 1216, 1212 and 1208 shotguns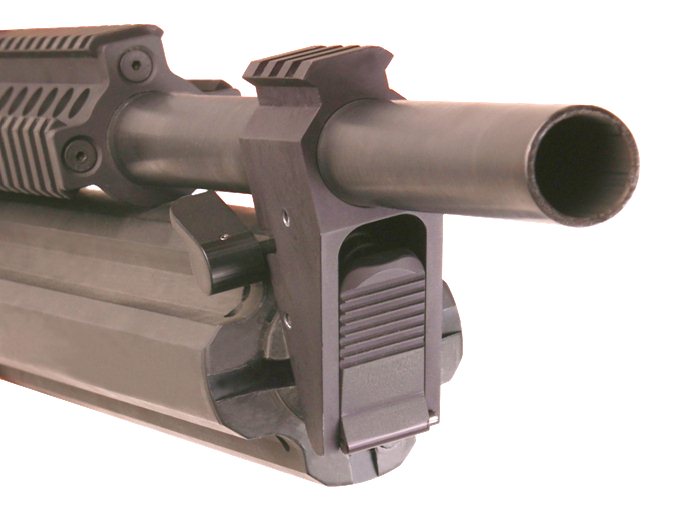 magazine release button (under the barrel) and rotation levers of SRM Model 1216 shotgun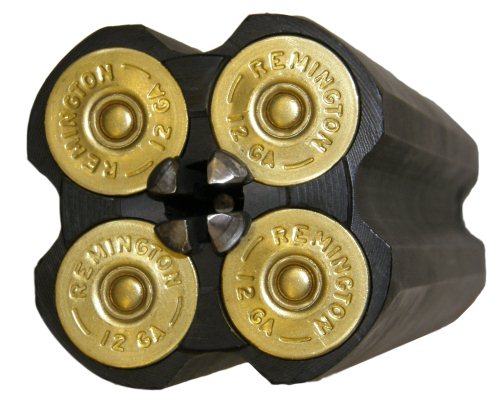 rear view on the laoded SRM Model 1216 shotgun magazine
| | |
| --- | --- |
| Type | Semi-automatic |
| Gauge, chamber | 12, 76 mm / 3" |
| Length | 876 mm / 34.5" |
| Barrel length | 470 mm / 18.5" |
| Weight (with empty magazine) | 3.4 kg / 7.5 lbs |
| Magazine capacity | 16 |
Model 1216 shotgun is an unorthodox weapon, developed and manufactured by US-based company SRM Arms Inc. This weapon is obviously intended for home defense and law enforcement use, although it also can be used as a hunting weapon. Thanks to its large magazine capacity it provides serious firepower, while maintaining relatively compact dimensions, making it easy to operate in confined spaces. It also offers ambidextrous handling. For dedicated LE / Military use SRM Arms also offers short-barreled versions of the basic shotgun, with 12- and 8-round magazine capacities, namely Model 1212 and Model 1208. These short-barreled shotguns fall under the restrictions of the US National Firearms Act of 1934 (NFA'34).
SRM Arms Model 1216 shotgun is operated using delayed blowback principle, which is rather unusual for shotguns. It employs roller-delayed action with two-part bolt and two rollers in its head, which enter recesses in the barrel extension. This action is very similar to that found in many older weapons by Heckler & Koch (such as G3 or MP5) based on WW2-era German Stg.45(M) design.
Model 1216 shotgun is built using bullpup layout, with polymer housing / stock and steel upper receiver, connected by cross-pins. Ejection ports are located on either side of the receiver, with one which is not in use being closed by removable ejection port cover. Normally Model 1216 shotgun is set up to eject to the right, although user can disassemble the gun and set it for left-side ejection, if required. One of most unusual features of the SRM Arms Model 1216 shotgun is its feed system. It employs detachable rotary magazine with four channels, each containing its own spring and follower. Each channel can hold up to four rounds in the same manner as any common tubular shotgun magazine. When magazine is inserted into the gun, it is located below the barrel. To feed the weapon, magazine should be rotated until one of its compartments is in topmost (12'o clock) position and aligned with feed port in the gun. Once it is done, cartridge retainer in the topmost compartment is disengaged, and first cartridge is pushed rearwards from magazine and onto the lifter platform in the gun. Once all four cartridges from topmost magazine are expended, bolt hold-open device engages the bolt in its rearward (open) position, indicating that magazine compartment is empty. After that, user shall push the indexing lever(s) at the front of the magazine, and manually rotate it 90 degrees to either side, until next full compartment is aligned with the feed port. Once it is done, fresh round is automatically fed from magazine and bolt hold-open device is released, chambering the round and making gun ready for the next shot. Once all four compartments are empty (or firing is done), rotary magazine cam be removed from the gun by pushing magazine release button, located in front of the magazine, below the muzzle. Empty or partially loaded magazines can be topped up only when removed from the gun.
Other features of the SRM Arms Model 1216 shotgun include conveniently located manual safety, which can be set on left or on right side of the gun, and set of integral Picatinny type rails, which can be used to install variety of sighting devices (Red Dot or iron sights), as well as laser aiming modules and/or tactical flashlights.